Royals drop fifth straight with makeshift lineup...
RC
doesn't have much commentary on tonight's game. We had some network issues, so our ability to actually watch the game was very limited. We understand that
AAAAaron Guiel
continued to justify his long stay in Omaha, and we heard that
Buddy Bell
went off on
Emil Brown
after the game because of a couple baserunning blunders.
Perhaps the most interesting news out of KC came in the form of an exclusive report from an
RC
correspondent who was actually at the game. After the loss, our source noticed that
Zack Greinke
,
Guy Hansen
, and
Mike Mason
all walked out to the bullpen together. Sensing potentially breaking news, our source whipped out his camera and documented the proceedings.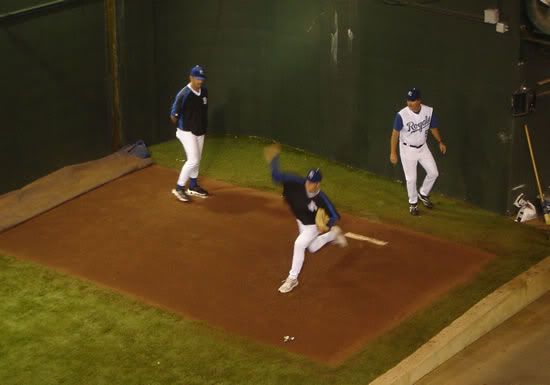 Greinke was working on shoulder mechanics and drive after the game.
Apparently, Hansen had Greinke work on some mechanical issues out of the stretch. There was no ball involved in the session, but rather Hansen had Greinke throwing airballs out of the stretch while continually concentrating on his shoulder positioning and drive. Hopefully we'll see this pay some dividends in Greinke's next start, which should be on Friday vs. the Rangers.
The Arizona Royals concluded their season on Monday night, and we're pleased to report that several Royals prospects registered among the league leaders in several categories:

-Joe Dickerson finished the season with a very encouraging line of .294/.371/.491. He hit four home runs, and he led the league triples (9) RBIs (40) -- which was a bit of a surprise -- at bats (214), and caught stealing (12). He was second in total bases (105), fifth in SLG pct., and sixth in walks (27) as of press time.

-Jeff Bianchi, if not for his injuries, would have almost definitely won the league's triple crown. He put up a ridiculous line of .408/.484/.745, and his six homers were still good for second in the league. He finished 11th in RBIs (30), despite playing in exactly half as many games as the league's leader, Dickerson.

-Shortstop Valentino Arce had a very nice season, .335/.405/.412. His OBP was good for ninth in the league.

-Outfielder Jose Duarte also came out of nowhere for a very good season, posting a line of .309/.388/.466. His 36 RBIs were good for third in the league, and his SLG pct. was the 7th-best.

-Brent Fisher was third in the league in strikeouts while putting up a great season. His numbers were: 50.1 IP, 48 H, 17 ER, 2 HR, 13 BB, 69 K and an ERA of 3.04. His record was 5-2.

-Rayner Oliveros tied for the league lead with seven victories (7-1), and he was second in the league in innings pitched. His line for the season was stellar: 75.1 IP, 73 H, 20 ER, 1 HR, 5 BB, 48 K, and an ERA of 2.39. Gotta love that control!

-Gilbert De la vara was excellent in relief, posting a line of: 38.2 IP, 31 H, 10 ER, 2 HR, 13 BB, 43 K, and a 2.33 ERA. De la vara will pitch for the U.S. in the World Cup tournament after the season.