Jon Rosen reports on Buckner, Cota, and Christensen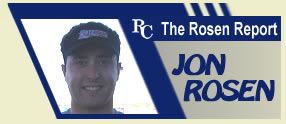 Luis Cota
on Tuesday had his best effort in the Cal League, limiting the defending champion San Jose Giants to just four hits in six innings while striking out seven. He allowed one run through the first five innings before laboring in the sixth and eventually allowing an RBI single to two-time batting champion and Cal League Playoff MVP
Brian Horwitz
with two outs. For the first time this season, Cota was missing bats. He was constantly ahead of batters with a four-seam fastball that seemed to bore in on lefthanders and a slider that he was using as his out pitch.
Luis Cota had his first quality outing for the Mavs on Tuesday.

Cota even recorded a K with his changeup, which according to
Baseball America
was a pitch he needed to refine before heading to the hitters paradise here in High Desert. He did not earn the win (the Mavs won their second consecutive home game on a walk-off, this time a solo shot in the bottom of the tenth by left fielder Geraldo Valentin), but did his share by putting the Mavs in a solid position to win the game.
Billy Buckner
had a mediocre outing Monday afternoon at Inland Empire. Don't pay any attention to the line score (5.1 IP, 7 H, 5 ER, 3 BB, 3 K), as there were several contributing factors to an awkward line. First, there were some awful hometown scoring decisions by the 66ers, as there were two plays in left field that were deemed hits instead of errors that led to two runs in the sixth inning, both of which should have been unearned.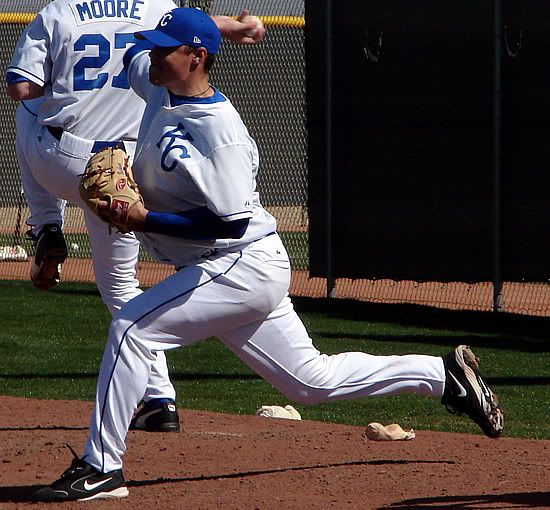 Billy Buckner's line wasn't great in his last start, but he got no favors from the replacement umpires.

Also, this was without a doubt the wackiest Cal League game I've ever seen, and that's about the friendliest way of saying it. We had local high school umpires filling in for the umps on strike, and their strike zone was, to say the least, inconsistent. Both teams had to constantly tell the umps where to stand on the infield in situations with runners on base, and there were two times in the game where neither the field umpire nor the home plate umpire made immediate fair/foul decisions on balls hit sharply down the line. The coaches and players aren't allowed to comment on the scab umps, but according to one source on the team who has been around this game for, well, quite some time, it was the most poorly officiated game he had ever seen. So toss that Buckner start out the window -- he should be back in form Saturday evening at home against Lancaster.
Danny Christensen
has looked superb so far this season, and he gets the ball for us tonight at home against San Jose. He went seven gutsy innings last week at home against Inland Empire, even though he left the sixth inning having thrown 86 pitches. Manager
Jeff Carter
left him in the game in the seventh and he responded with a 1-2-3 inning against the middle of a potent 66er order. His two-seam fastball doesn't have the same movement that
J.P. Howell's
had, though it has still missed a lot of bats and induced many awkward swings. His 12-to-6 hook, however, might be the best out pitch in the league if not for Buckner's hellacious curve.
Daniel Christensen has thrown well this year for the Mavs, but has yet to pick up his first win.
Like Howell, Christensen also has the drive and fire to be a top competitor, as being sidelined throughout 2004 after Tommy John surgery should appear to be a bump in the road instead of a major hindrance. Righties are batting only .161 against the southpaw, with lefties hitting at a .250 clip against the Brooklyn native. He's still relatively young even though he missed a season, so we hope to have him for a good majority of the year as long as he keeps the ball low and changes speeds well, which he has done through his first two starts.
Jon Rosen is the Director of Broadcasting and play-by-play man for the High Desert Mavericks, and he's agreed to provide exclusive reports for RC throughout the season.