Wranglers 4, Cardinals 2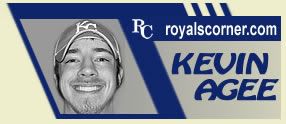 Shortly before the Devil Rays handed the Royals their seventh consecutive loss, I hopped in my car and made the half-mile trek to Hammons Field, where the Wichita Wranglers were set to take on the Springfield Cardinals in the first of a five-game series, all of which I'll definitely be attending. Sunday's game, which
Wichita won 4-2
, served as a bit of a morale boost for me and the several other Royals fans in attendance.
The Royals' decision to place 22-year-old shortstop Angel Sanchez on the 40-man roster this winter caused many fans to scratch their heads, because the more obvious move would've been to protect outfielder Mitch Maier, who was seemingly closer to the Major Leagues and therefore more vulnerable to being selected in the Rule 5 draft. After seeing Sanchez perform on Sunday, I'm downright convinced that the Royals did the right thing.

On a field that was littered with future big leaguers like Cody Haerther, Nick Stavinoha, Chris Lubanski, and Billy Butler, Sanchez was the player who stood out in the crowd, going 4-for-4 with a walk and three RBI. Aside from one caught stealing and a lazy fielding error, he had an outstanding day.



Shown here in spring training, Angel Sanchez is off to a great start for Wichita

I was most impressed with Sanchez's approach at the plate, which I found to be unusually calm and collected for a player so young. He drew his walk leading off the game, and did a fantastic job of running deep counts and hitting the ball with authority the rest of the way. For the season, Sanchez is hitting .389 with an on-base percentage well north of .450, which is a slight indicator that Mark Teahen isn't the only left-side Royals infielder who should be watching his back.
Speaking of Teahen, the perception that Alex Gordon could be very close to taking his job is indeed reality. Gordon only got one hit -- a first-inning double -- in five plate appearances, but showed off his defensive skills more than once. He made a couple of diving stops, showed the ability to cleanly barehand a slow roller, and displayed a very strong and accurate arm. However, the most impressive play of his day was probably a key twin killing he started in the ninth inning.

With nobody out and Springfield's Jarrett Hoffpauir representing the tying run, Wichita reliever Derrick Depriest induced Hoffpauir to hit a bouncing groundball right to Gordon. Gordon fielded the ball cleanly, and not only fired a strike to second baseman Walter Sevilla, but put the throw on the first base side of second, allowing Sevilla to get his momentum going towards first. On a very close play, a hustling Hauffpauir was ruled out, and the game was essentially over.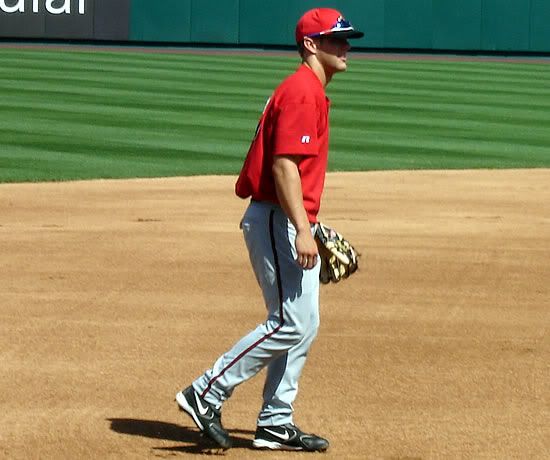 Alex Gordon is a nightly Web Gem personality waiting to happen

Gordon is probably not only Teahen's superior offensively, but, judging from various reports I've read and what I personally witnessed today, I'm starting to believe that he may be as good or better defensively as well. The kid is far more than a masher; he could be the most complete player the Royals have developed since Carlos Beltran.
Billy Butler picked up a couple of singles in five at-bats, with this third inning hit driving home Sanchez and sending Lubanski to second base. That hit was the only ball he got in the air all day, as in his other four plate appearances, he hit scalding groundballs to the left side of the infield. You know, like the guy he's constantly been compared to, Mike Sweeney.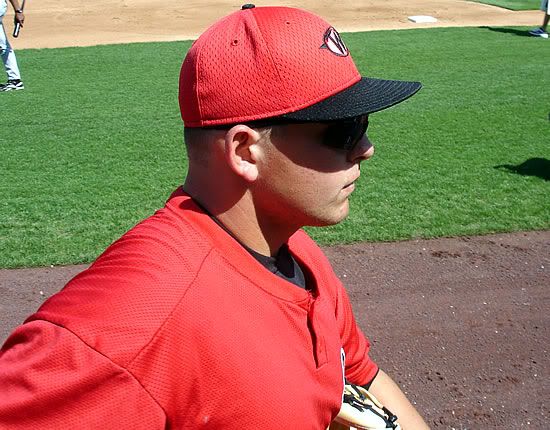 Still, Butler's off to a very slow start, and hasn't even drawn a walk in 47 at-bats. In all likelihood, he probably just needs to make a few adjustments to his approach, and he'll be fine. It's so easy to forget that he won't turn 20 until Tuesday.
Springfield lefty starting pitcher Rich Rundles had Lubanski tied up in knots all day long, as the Wranglers centerfielder was lunging and feeling for the ball. Lubanski's hitting just .083 so far, but he started very slowly last year before hitting the snot out of the ball from July on.

Stay tuned to RC this week for further updates on the Wichita/Springfield series!