Minor leagues underway...Gordon homers in debut!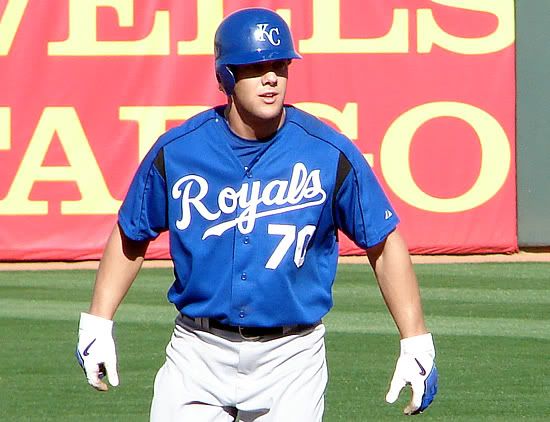 It didn't take Alex Gordon long to hit his first professional home run.
It was a bittersweet day for Royals affiliates. Rain forced the cancellation of Omaha's and Burlington's season openers, and the Wichita Wranglers, after jumping to an 8-3 lead, lost the game in 16 innings after surrendering five runs in the bottom of the ninth inning vs. Tulsa. High Desert was the only winner of the night, defeating the Inland Empire 66ers by a score of 6-2.
The Wranglers game was quite interesting, and
RC
listened to most of the first 13 innings. Early in the game, all four of the Royals' first rounders were off to a great start. The first time through the lineup,
Mitch Maier
hit a solo homer,
Billy Butler
smashed a single to center,
Alex Gordon
hit a double high off the center field wall, and Chris
Lubanski
lined a double to left. However, after putting up great composite numbers through nine innings, the Wranglers' offense fell flat. Below are the noteworthy performances from today's games: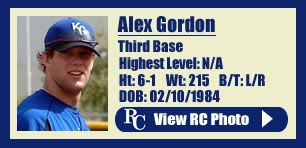 - Gordon's professional debut couldn't have gone a whole lot better. After his double to center in the first inning, he lined out to the left fielder and smashed a three-run home run to left field. Defensively, Gordon made two plays that prompted Wranglers' broadcaster
Eric Anderson
to comment that "he made some plays at third that would have made
Brooks Robinson
proud," and he added another defensive gem later in the game. On the night, Gordon finished 2-for-7 with three RBIs, a walk, and three strikeouts.
- Butler after five at bats through nine innings was 4-for-5 with a double and three singles, but he went 0-for-3 in extra innings to finish the day 4-for-8. His flyout in the 15th inning was caught at the warning track.
- Lubanski and Maier did little after their first at bats, although both made a number of fine plays in the outfield (although Maier did record an error as well). On the night the two combined to go 2-for-13 with eight strikeouts, five of which were accumulated by Maier.
-
Mark Redman
got the start for Wichita on a rehab assignment, and he was sparkling over five innings. He surrendered three hits and an unearned run while walking one and striking out two. Word is that he'll get another start for Wichita on Tuesday night, and the Royals will then evaluate his readiness to return to the Major League club, which should be sometime around May 1.
Mark Redman's first rehab start couldn't have been much better.

-
Angel Sanchez
blasted a two-run homer to left field in the sixth inning, but on the night he was 1-for-7 with 2 Ks and a throwing error.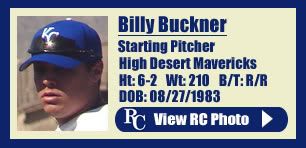 - In High Desert,
Billy Buckner
got the start and picked up the win after tossing five innings while surrendering two runs (one earned). He allowed five hits and three walks, and he struck out four. The important thing is that he kept the ball down, coaxing eight ground outs and only two fly outs. If he can continue doing that, he won't have any problems pitching in the high air of the California League this season.
That's it for tonight. On Friday
RC
heads to Columbia, MO, to see the Mizzou Tigers take on the Nebraska Cornhuskers.
Joba Chamberlain
takes the hill for the Huskers, opposing Missouri's
Nathan Culp
. We had hoped to see both Chamberlain and
Max Scherzer
, but the Tigers are going with the hot hand instead while Scherzer continues to bounce back from bicep tendinitis. On Saturday afternoon we're attending the Royals game, and we'll have a full report on both games upon our return.