Royals erase early six-run deficit, stun Sox for first win of 2006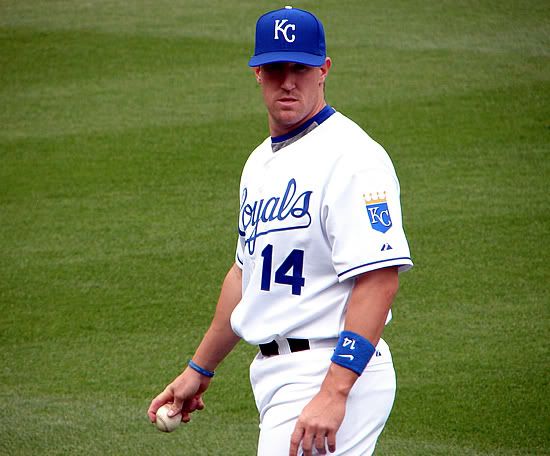 John Buck led the Royals to victory with two key doubles.
RC
was in Columbia watching Nebraska's
Joba Chamberlain
struggle through the second inning against Mizzou when we received a troublesome phone call. On the other end was an agitated
RC
Correspondent, who told us that
Jeremy Affeldt
had already surrendered four runs in the first inning without recording an out. A brief bout of panic set in, as the thought of another lopsided loss after Wednesday's disaster was nearly too much to handle.
Of course, as we now know, there was nothing to worry about. The White Sox opened the door with some uncharacteristic defensive miscues, and the Royals slammed through with a batch of timely hitting. When it was over, KC prevailed 11-7, and Royals Nation basked in the comfort of victory for the first time this season. It's certainly a nice feeling, and hopefully the Royals can let it ride with another win tomorrow.
We haven't yet had the opportunity to watch anything other than highlights, but we definitely like what we saw from
John Buck
, whose two opposite field doubles keyed the Royals' victory.
Angel Berroa
continued to swing a hot stick, lacing a two-run double down the left field line, and both
Mike Sweeney
and
Mark Grudzielanek
collected their first hits of the season. The bullpen was solid over five innings while picking up Affeldt, who departed the game after the fourth inning.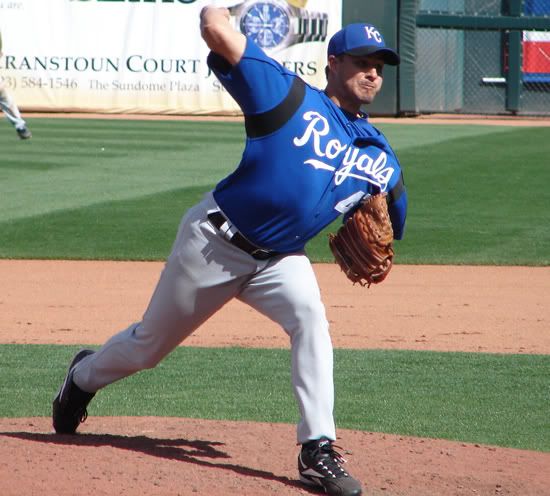 Elmer Dessens has been getting it done so far this year.

It certainly wasn't a perfect win, as Affeldt's early struggles are somewhat alarming. Grudzielanek made what could have been a costly baserunning mistake by not tagging up from third on a Sweeney fly out down the right field line, but luck was on the Royals' side, as
Doug Mientkiewicz's
fielder's choice to first (coupled with
Paul Konerko's
poor throw to the plate) allowed him to score. And worst of all,
David DeJesus
had to leave the game with a strained hamstring after knocking an RBI double down the first base line. No word yet on the extent of his injury, but
Buddy Bell
said he'll definitely be out a couple days.
Shane Costa
will take his place in the meantime.
On Saturday, the Royals send
Denny Bautista
to the hill to oppose
Javier Vasquez
, who owns a 2-0 career record vs. KC.
RC
will be at the game, and for some reason we have a good feeling about what we're going to see from Bautista. As always, we'll have a detailed report for you in the evening.
We've received some questions about RC's Daily Prospect Update, which is a free service we provide for our readers that sends daily updates to your inbox every morning tracking the progress of the Royals' top prospects in the minors. Since we're presently stationed at RC's Western Command in Kansas City, we don't have the capability to begin sending them out until we return to Headquarters next week. In the meantime, we'll do our best to keep you updated here on our main page.

Royals affiliates had four games scheduled for Friday night, but High Desert's game vs. Inland Empire was postponed due to rain. Omaha and Burlington were both rained out on Thursday, and both won their first games of the season on Friday. Wichita again lost courtesy of a walkoff home run, the second time in two nights. The notable performances are below:

- Alex Gordon continued his quest to make a joke out of the Texas League. The Royals' top prospect went 2-for-4 on the evening with three stolen bases, and he's now 4-for-11 through his first two professional games.

- Billy Butler (1) and Mitch Maier (2) both homered and went 1-for-5. Butler struck out twice, and he was ejected from the game after his second K in the ninth inning. Butler also had an assist in the game, gunning down a runner at second base.

- Donnie Murphy erased the bad taste in his mouth from yesterday's 1-for-7 by going 3-for-5 with a double.

- Joel Peralta threw a scoreless ninth for Omaha, notching his first save of the season in Omaha's 5-3 win over Nashville.

- Jeffrey Howell and Kiel Thibault both opened their 2006 campaigns by going 1-for-3, but Chris McConnell drew an 0-for-4. Matt Kniginyzky, a converted reliever, pitched brilliantly for the Bees, tossing six innings while allowing only one run, three hits, and no walks, striking out five.
As we mentioned above, RC got our first look tonight at Nebraska's Joba Chamberlain, who picked up the victory over Mizzou after tossing six innings. He surrendered three earned runs on seven hits while walking four and striking out two. We'll have a detailed report on him in the coming days (we promise), but our initial impression of him is that he's not really in the same league as some of the pitchers who are higher on our prospect list.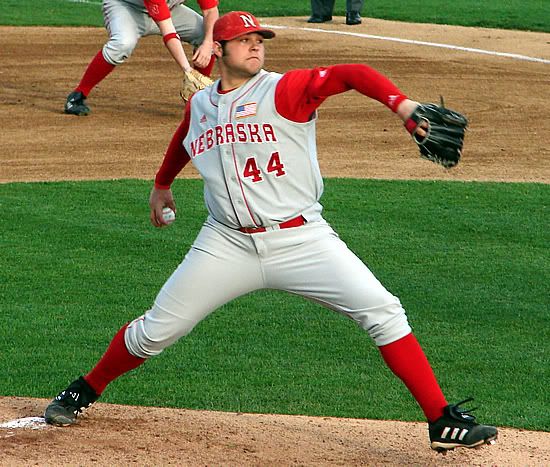 Chamberlain gutted out a tough win vs. Missouri today.

That's it for today. Be sure to check back with us tomorrow, as we report on Saturday's game, as well as the goings on in the minors.