This is getting ridiculous...Royals drop ninth straight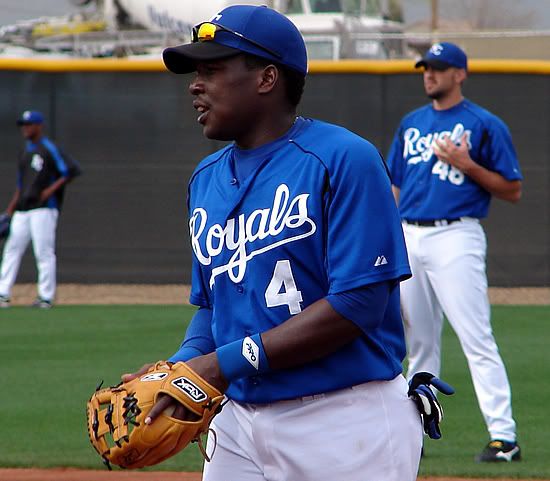 Berroa blew it big time today, but at least he struck out swinging on a 3-2 pitch over his head.

Wow, this is getting ugly very quickly. The Royals tonight finally got a surprisingly decent start from
Jeremy Affeldt
, but their poor defense and anemic offense did them in again for their ninth straight loss.
RC
is at a loss for words at how poorly the Royals have played for the last week and a half, and it's staggering how incompetent every single aspect of the club looks right now. The starting pitching corps has been atrocious (
Scott Elarton
excluded), and the bullpen has amazingly been even worse. The entire offense has somehow gone into a slump at the same time, and it seems as though every day brings news of another injury to a key player.
As for tonight's game, Affeldt did pitch well, but he fell victim to a ridiculous error by
Angel Berroa
on a routine grounder in the fourth inning. Berroa's miscue led to three unearned runs, and that's all
Jon Garland
and the White Sox needed to bury the Royals yet again.
David DeJesus
felt another twinge in his hamstring, so he's again day-to-day for the time being. And
Andrew Sisco
again got banged around for a run in the seventh, pushing his already horrible ERA to a robust 12.71.
The only comfort that
RC
has right now is that this team cannot possibly be this bad, and that things cannot possibly get any worse. The season is still young, so it's not yet time to pull the panic lever, but that time is rapidly approaching and the Royals need to start winning ballgames right now.
On a positive note (yes, this
is
RC
),
Shane Costa
has looked really good at the plate through the first two weeks of the season, and
Mark Teahen
is starting to string together some hits, including his first home run today. No Royal player has yet been suspended by the league for steroids (although steroids at this point might not be a bad idea), and
RC's
official cable company has decided that it would rather show playoff hockey than baseball games on the Extra Innings Package that
RC
paid $149 for. This of course is good news, since it means that
RC
cannot record the games and dwell on them more than once.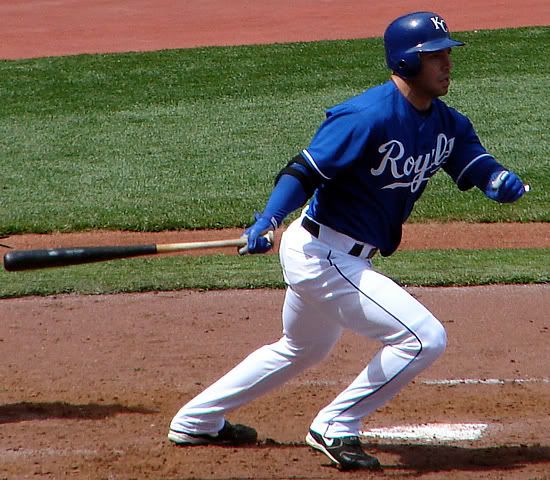 Costa: Our mental "savior"

Maybe the best news is that Nats' GM
Jim Bowden
was
arrested
in Florida on DUI charges yesterday. It is
RC's
greatest fear that if our Official Hero is sacked this season (we still hope not), the Royals might replace him with our least favorite GM in baseball. Yesterday's embarrassment helped to calm those fears, at least temporarily.
It's not much to go on, but when the world is crumbling around you, it's important to do what you can to find some positives to think about, wherever they may be.

One final note tonight. Those of you who subscribe to RC's Daily Prospect Update have already heard about this week's Draft Update, but we wanted to add a note to today's post to remind folks who haven't yet taken advantage of our free update that the newest edition of our Top 10 collegiate prospects list has been released. Check it out, and let us know what you think.