Why must this always happen?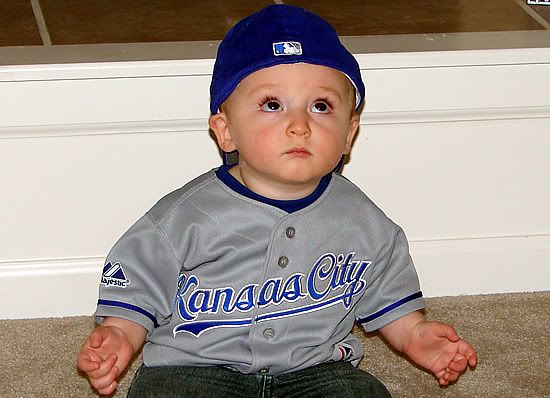 The Official Baby of RC has never seen the Royals win in Yankee Stadium.
The Royals haven't won in the Bronx since 2002. Today
RC
watched as the Royals dismantled the Yankees for seven innings, and we were wildly optimistic that their dreaded 11-game losing streak in New York would come to an end. But alas, it was not to be, as the bullpen coughed up a three-run lead in the eighth, and the Royals lost their 12th straight game in the Bronx, 9-7.
This game was eerily reminiscent of a
game
last August, when the Royals took a 7-3 lead at Yankee Stadium into the ninth inning, only to see
Jeremy Affeldt
and
Shawn Camp
blow it by allowing five runs. After that game,
RC unleashed our fury
on Affeldt, who recorded only one out while allowing four runs.
The goat in today's game was
Andrew Sisco
, who did the exact same thing (0.1 IP, 4 R). However, we're not going to get too down on Sisco. We
expected
Sisco to struggle a bit this season, and it's not terribly surprising that he'd have a outing like this after pitching above his head last year. And to tell the truth, Sisco didn't even look that bad today. He appeared to strike out
Jason Giambi
twice
(on 2-2 and 3-2 counts), but he couldn't get a call from the home plate umpire to save his life, and Giambi was instead awarded a deadly leadoff walk. The pitch that
Hideki Matsui
hit for a single during the next at bat was a decent offering on the outside corner, and it would have been a routine one-hopper to second had
Mark Grudzielanek
not been at double-play depth. The only truly poor sequence was to
Jorge Posada
, who walked on five pitches to load the bases.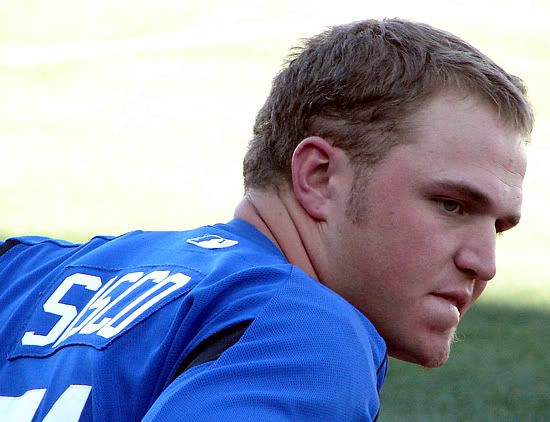 Buddy Bell
is taking some heat from Royals fans tonight for bringing in Sisco after
Elmer Dessens
had dominated the previous two innings on just 19 pitches, but such talk is silly.
RC
often advocates going with the hot hand in place of a predetermined plan, but Bell's call for Sisco today was completely logical. The first three batters the Yankees were due to send up in the eighth inning were two lefties (Giambi and Matsui) and a switch hitter (Posada), and Sisco last season was murder against lefties (.216 BAA, .615 OPS). Sisco has earned the opportunity to pitch in that situation, and Bell was right to send him in, early struggles be damned.
If Sisco continues to struggle, then Bell will be forced to make a change in the way he uses the bullpen. But this early in the season, the best data available to Bell is that which Sisco compiled last season in the setup role (opposed to meaningless spring training stats), and he was absolutely right to summon him from the bullpen today. It sucks to lose a game in such a way, but it's inevitable as the Royals learn who they can and can't count on this season, particularly when they've got such young players in key positions.
Moving on, there were definitely a few positives to be taken out of today's game. The Royals played a scrappy ballgame and clawed their way out of the 3-0 deficit caused by
Joe Mays'
ineffectiveness.
Reggie Sanders
and
Shane Costa
both hit solo homeruns, and both
Mark Teahen
and
John Buck
actually looked pretty good at the plate. Dessens was lights out during his two innings of work, and
Mike Wood
did an excellent job of keeping the Royals in the ballgame after Mays' early exit.
Costa returned to the dugout after hitting his homerun today and demanded a nails-and-broken-glass sandwich.
The Royals try again on Wednesday afternoon in an ESPN-televised game. Affeldt takes the hill vs.
Shawn Chacon
, so we're not sure what to expect. The Royals could score some runs off of Chacon, and if Affeldt can keep the ball down and throw strikes, the Royals may have a decent chance to snap the losing streak. Odds are that
Mike Sweeney
will be withheld from the lineup after being plunked in the hand in the ninth inning on Tuesday, so we may see
Matt Stairs
for the first time this season. As usual, we'll have a full report for you tomorrow night.