Now that's more like it! Royals win, end ridiculous 11-game slide
The Royals last saw fireworks on April 8, a full two weeks ago.
After watching Friday night's game, you sort of had a feeling that something like this was coming. The Royals had a great offensive approach at the plate in the first game of the series vs. the Tribe, and they carried that into tonight's game, halting their 11-game slide while picking up their first win since April 8th. They attacked
Paul Byrd
, hanging four runs on him in the first and jumping out to a 7-0 lead after three innings, and that was more than enough support for a surprisingly effective combination of
Joe Mays
and
Mike Wood
.
Mays, in fact, was perfect through the first three innings, and thanks to a miraculous double play turned in by
Angel Berroa
, he entered the fifth inning having faced the minimum. It fell apart for Mays right there, and he was forced to turn the game over to Wood with two outs, two on, and a 7-3 lead. On the night, Mays was charged with four earned runs on four hits in 4.2 innings of work. Those certainly aren't great stats, but against an offensive powerhouse like the Indians,
RC
couldn't have expected anything better.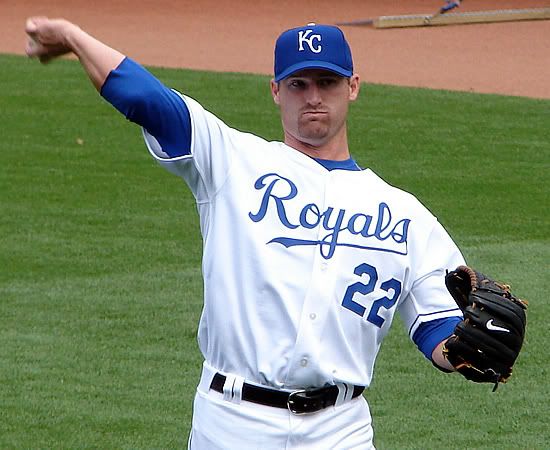 RC was pleased with Mays' outing today.

Wood, however, was incredible. He took over in the fifth and finished the game, tossing 4.1 innings while allowing just three hits and an unearned run. With the Royals staked a nice lead, Wood did exactly what he was supposed to do -- throw strikes. He didn't walk a single batter, and 36 of his 55 pitches were over the plate as he picked up his second victory of the year.
Of course, the true star of today's game was the offense, which has now collected 25 hits over the last two days. Everyone except
Paul Bako
and
Mike Sweeney
got in on the act, and even Sweeney had a key RBI on a sacrifice fly.
Doug Mientkiewicz
(two-run double) and
Emil Brown
(two-run single) delivered the big blows in the first inning, and
Reggie Sanders
launched a big RBI double in the sixth inning.
Shane Costa
continued to look solid at the plate, picking up two more hits, as did
Mark Grudzielanek
, who continues to lead the Royals with a .317 BA.
The teams play the rubber match tomorrow afternoon, as the Tribe sends
Jason Johnson
to the hill to oppose the unpredictable
Jeremy Affeldt
. The Royals have had both success and failure in the past vs. Johnson, and if Affeldt can replicate his command from his last outing, the Royals just might be able to take the series. It all hinges on which Jeremy Affeldt will show up tomorrow.
RC
has a few more observations:
Did anyone actually expect Grudzielanek to play this well? We don't know if he can keep it up for a full season, but if he does, the Royals won't mind picking up his 2007 option one bit. He often looks bad when he swings and misses, but he always seems to have an excellent idea of what he's doing at the plate, and his defense has been outstanding. Simply put, he's a ballplayer, and RC loves watching him play. With the Royals' luck in previous seasons concerning free agent signings, we were a little worried, but Grudz has dashed those fears quite effectively.
Mark Grudzielanek is getting it done this year.

During the losing streak, Brown in particular looked off-kilter. RC has remained a big Brown supporter since last season because of his quick, compact, and balanced swing, and we rarely saw him look bad on a pitch last year. For the last couple of weeks, Brown has looked bad on many occasions, opening up and flailing at off-speed breaking balls.



Brown might be starting to heat up.

However, RC has begun to see the old Brown over the last two games, and even though he still took a couple swings that made us cringe, we're starting to see that compact swing and competent, confident approach at the plate. We look for him to get back on track very soon, and we still expect him to eclipse last year's numbers before the season is done.
Are fans going to boo Sweeney EVERY SINGLE TIME he makes an out this season? The man went 4-for-5 on Friday night, and then drew boos from the fans when he struck out on a nasty 3-2 slider from a pitcher he had never seen before. And then they booed him again when he flew out in the eighth, even though the Royals had a six-run lead! RC was shocked, but a friend explained that perhaps they were booing because they wanted that 12th hit and free doughnuts. Either way, RC was disgusted, but that leads us to our next observation.
RC loves it when the Royals win on less than 12 hits. No, we don't own Krispy Kreme stock, but we do hate that the doughnut chase generates more crowd noise and excitement than the action on the field. We're probably too young to be so bitter, but RC actually let out a cheer when Mientkiewicz dashed the free doughnut dreams of 8,000 very cheap people by striking out to end the eighth inning. That was fantastic!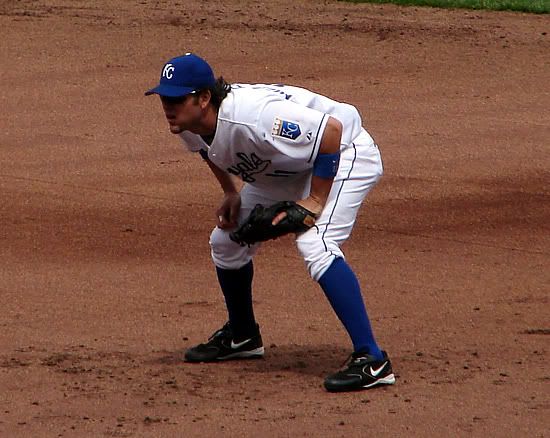 Dougie Fresh did everything right tonight.

It's sure nice to be able to write about a win.