RC reviews 2002 draft...and provides a few more Billy Butler photos...
By Craig Weddle

Editor's Note: This is the final in a series of Royals draft reviews that Craig has authored over the past couple months. Today he takes a look at the seven players taken in the 2002 draft who still have a shot at making it to Kansas City, or have already done so.
The best player taken by the Royals in the draft was
Zack Greinke
(1st round). Once considered one of the top prospects in all of baseball, Zack struggled with the Royals in 2005. If he hadn't gone through the system so fast and was instead mowing 'em down in AA or AAA, he would still be considered a top prospect. Next season is very important for Greinke. Will he become the top of the rotation starter we've been looking for, or will he be just another middle of the rotation kind of guy?
Adam Donachie
(2nd round) was drafted as a catcher with outstanding defensive skills and raw but "projectable power". After not doing much offensively in rookie ball and Burlington, Donachie found his stroke at High Desert (.842 OPS). Since so many other players had good offensive seasons at High Desert, we still don't know who the real Adam Donachie is. Presumably he will start next season at Wichita. He's young (21) and is very good defensively. By the end of 2006 we should have a better idea as to whether Adam is destined to be a backup catcher, or if he's someone who might threaten to take John Buck's job away.
Danny Christensen
(4th round) is a young (21) lefty who finally started to realize a little potential this year. Although not a real hard thrower, Christensen put up good numbers in 2005 at Burlington. In 109.1 innings, his WHIP was 1.4, his K to BB ratio was 2:1, and he struck out a batter an inning. If he can survive High Desert next year, the organization and
RC
will start to take notice.
Donnie Murphy
(5th round) is one of many good middle infielders in the Royals' system. Unfortunately, none of the guys in the upper levels of the minors (and majors) is a stud. Murphy's future with the organization is up in the air. He's considered better offensively than Blanco, but worse than Gotay. At the same time he's better defensively than Gotay, but worse than Blanco. All three guys are still young (Murphy and Gotay are 22, Blanco 21). Complicating matters further, the Royals are considering going after a veteran 2B this off-season.
Jonah Bayliss
(7th round) converted to a reliever in 2005 with outstanding results. In 57 innings at Wichita, he had a WHIP of 1.2, K to BB ratio of 2.4:1, and he struck out over a man per inning (1.1 per IP). He even held his own in a brief stint with Kansas City. Bayliss is pitching this fall in Arizona and is definitely in the mix for the KC bullpen in 2006.
Matt Tupman
(9th round) had a decent year in Wichita (.689 OPS) and shows good plate discipline. Although he will never be a big leaguer starter, I listed him here because he does have a shot at a backup role with the Royals.
Kila Kaaihue
(15th round) has been a project since he was drafted. I've been intrigued by Kila since rookie ball because he shows good plate discipline, while exhibiting the potential for developing a power stroke. In 2005, while hitting an impressive .925 OPS, he had a 97:97 K to BB ratio. Compare that to Moye (97:20). In Burlington he seemed to lose his discipline, while not improving his power. Once again High Desert seems to have been the panacea for another player. Like Donachie, Lubanski, et al., Kila needs to show us that can continue his offensive improvement in 2006 at Wichita. His 19 errors at 1B are a concern. -CW
This is the week that RC heads to the fun and sun of Arizona, where we will catch six Arizona Fall League games, including three Surprise Scorpions games. We've got a lot of exciting new things planned, including oodles of new high quality original RC photos.

For instance, we are pleased to announce that we will also unveil RC's NEWEST and MOST EXCITING FEATURE yet -- VIDEO!!! That's right, RC has worked out all the details, so on Thursday night, you'll be the first people outside of Arizona to see Alex Gordon swinging a bat in a Royals uniform. Of course, we'll also provide video of Billy Butler, and any other prospects of interest.

We're also pleased to announce that we've been invited to write a guest blog on Jonathan Mayo's (from MLB.com and MiLB.com) Around the Minors Blog. If you're interested in hearing more about our trip to Arizona, as well as our take on some non-Royals prospects, be sure to check it out next weekend. We'll also provide a link here when the time comes.


Finally, we figured we'd make up for our lack of weekend posts by releasing our remaining Billy Butler photos for public consumption. Thanks again to RC Correspondents Jason DeHaai and Brooke Bennett for the great photos.


Billy Butler just before hitting a three-run homer. Photo courtesty of Jason DeHaai.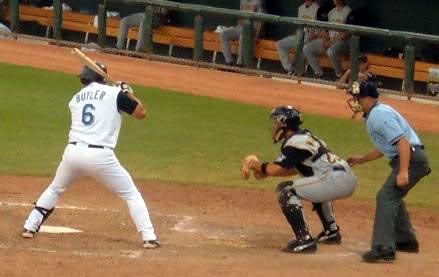 Photo courtesty of Brooke Bennett.
Photo courtesty of Brooke Bennett.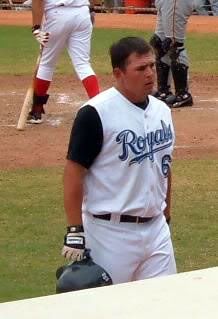 Photo courtesty of Brooke Bennett.