Less fat Elvys excellent in return...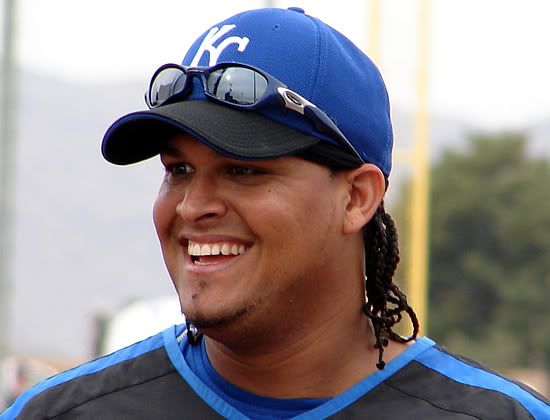 Take that, Rotoworld!

When
RC
saw
Runelvys Hernandez
in Spring Training, we were amazed at how big he'd become. When he took the mound at Kauffman Stadium on Wednesday, it wasn't hard for us to see that he had lost significant weight over the last two months, and he shocked us further by tossing an excellent ballgame.
Elvys required just 82 pitches through seven two-hit innings, and every one of his pitches had great movement. His two-seamer and slider were diving, his changeup was dancing, and he was still throwing his four-seamer 91 mph in the seventh inning. In fact, this might have been the best we've seen him since the 2003 season, and we're actually looking forward to his next start.
The only mistake Elvys made all evening was a pitch he left up to
Justin Morneau
, who deposited it over the right-center field wall. It would have been a two-run homer if not for the excellent diving catch by
Doug Mientkiewicz
on a
Torii Hunter
line drive. Regardless, Hernandez kept his composure and didn't allow another baserunner for the remainder of his outing.
The bullpen came out in the eighth, and the combined efforts of
Elmer Dessens
and
Ambiorix Burgos
nailed down the game for the Royals' fifth victory of the season. They go for the series win this afternoon, as
Mark Redman
opposes Twins' ace
Johan Santana
.
Sorry about the late, short post. We'll have more for you tonight after the game. Stay tuned.