Royals strand 14, screw Elarton again...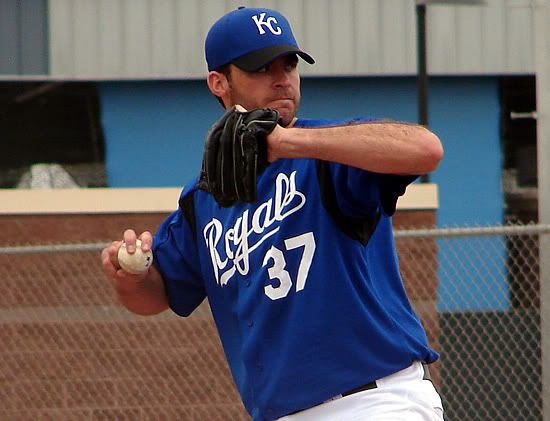 So much for the winning streak. Royals' starter
Scott Elarton
pitched seven brilliant shutout innings, but again was denied his first victory of the year. The Royals had no trouble putting men on base, but they again failed to deliver in key two-out situations. It's a tough loss to take, but the Royals played well, and this isn't the type of loss to hang your head over.
One must wonder what the result of tonight's game would have been if
Mike MacDougal
was healthy.
Ambiorix Burgos
-- who has been pretty dominant thus far -- would have been summoned for the 8th inning, and, God willing, MacDougal would have had the opportunity to close the game out. But as it was,
Buddy Bell
summoned
Luke Hudson
from the bullpen to begin the eighth, and disaster ensued.
Now,
RC
doesn't quarrel with Bell's decision to bring in Hudson. We've seen him pitch well in such situations, and he hasn't been any worse thus far than any other pitcher out of the pen this year. Hudson brings an excellent fastball and occasionally great curveball to the table, so
RC
was hoping we'd see him hand the game over to Burgos in the ninth with a one-run lead. Of course, fate intervened with the modified plan.
Hard to blame this one on Luke Hudson.
Lew Ford
led off the inning with a weak grounder to SS, but the ball was perfectly placed and
Angel Berroa
was unable to throw him out off the backhand.
Ruben Sierra
pinch hit, and after a passed ball by
John Buck
, Sierra drove in the game-tying run with a grounder through the hole between SS and 3B. Berroa had been cheating toward second with Ford on base, and the ball was hit precisely where he'd have been if Ford was still on first. The result was an RBI single for Sierra, and pinch runner
Nick Punto
moved to third when
Shannon Stewart
lined a single up the middle.
The Royals then summoned
Andrew Sisco
from the pen, and Sisco did an excellent job limiting the damage. After coaxing
Luis Castillo
into a harmless foul pop fly to
Doug Mientkiewicz
, Sisco surrendered a shallow sacrifice fly to
Emil Brown
in left. Brown bounced the throw to home, and Punto was safe with the go-ahead run. Burgos was called from the pen to end the assault, which he did by coaxing a pop-up to
Mark Grudzielanek
to end the inning.
However, the damage was done, and the Royals could do nothing with their remaining six outs. It's a shame to see them waste so many scoring opportunities, and the loss drops them back to 10 games under .500. They face rookie
Scott Baker
tomorrow, so hopefully the offense can get into gear and support
Runelvys Hernandez
, who is making his first start of the season for the Royals.
Shane Costa continues to impress us. He went 2-for-4 today, raising his batting average to .302, and he made an excellent sliding catch on a Rondell White liner to left-center. Costa has been one of the most consistent contributors to the lineup, and he's starting to raise questions about what happens when David DeJesus returns to the lineup.



Shane Costa is making people forget about AAAAron Guiel.

Does he spell Brown and Reggie Sanders on occasion vs. righties, or has he earned the right to start regularly? RC is proud to proclaim that we were the first media entity to predict his success this season (admittedly, at Omaha), and we hope the Royals find a way to continue getting him into the lineup as the season progresses.
We mentioned yesterday that Justin Huber was injured during Omaha's game on Monday, but we are happy to report that the injury was not serious. Huber suffered a dislocated pinky finger while diving back to first base on a pickoff attempt, and there was no ligament damage. The O-Royals expect him to miss a couple of days, but he should return quickly and contine his assault on PCL pitchers.