Buck You, Chief Wahoo!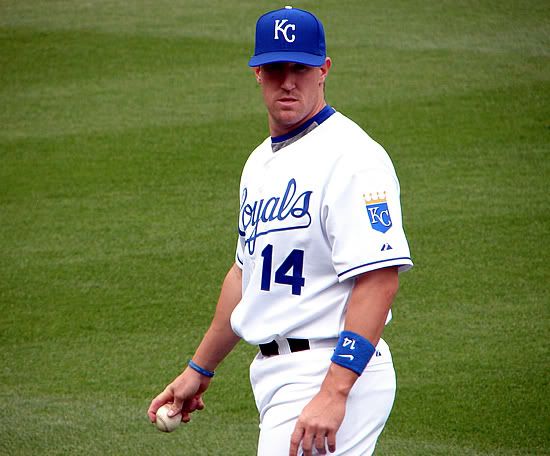 John Buck did his best Andrew Jackson impersonation tonight.

Jeremy Affeldt
tonight lasted only 1.2 innings, but the Royals backed him up in what might have been their most exciting game this season, prevailing over the Indians for the second straight night, 10-7. In relief of Affeldt, the Royals rolled out
Jimmy Gobble
,
Joel Peralta
,
Andrew Sisco
, and
Elmer Dessens
. Gobble and Peralta weren't great, as they both gave up a pair of runs, but they were good enough to keep the Royals in the game. Sisco put out a fire by recording the final out in the seventh inning, then tossed a scoreless eighth. After he surrendered a leadoff double to
Eduardo Perez
in the ninth, Dessens entered the game and recorded the final three outs, giving up only an RBI single to
Aaron Boone
.
The offense tonight was excellent, as we predicted it might be against
Jason Johnson
. Three times the Royals battled back from two-run deficits, finally taking control of the game in the sixth with a six-run outburst.
John Buck
was the hero for the second straight night, as it was his monster three-run HR that turned a 6-4 deficit into a 7-6 lead. On the night, Buck was a perfect 3-for-3 with a walk, and so far in the series he is 5-for-6 with two homers and 5 RBI.
Buck's swing lately has been much shorter to the ball, and he's had more excellent at bats in the last two games than he had in the previous two weeks. Even his walk was impressive, as he battled back from a 1-2 count while fouling off four pitches to draw the free pass. His average is now up to a season-high .254, and it will be interesting to see if
Buddy Bell
puts him in the lineup again tomorrow, despite the fact that he usually rests him on day games that follow night games. We're not counting on it, but we suppose it's a possibility with the way he's swinging the bat right now.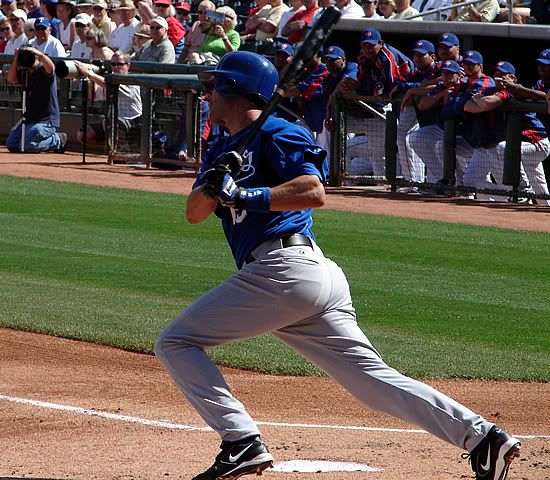 Mark Grudzielanek added four hits, raising his average to .315.
Of course,
John Buck
wasn't the only player who got in on the fun.
Mark Grudzielanek
had four hits, and he would have been 5-for-5 if the Indians hadn't wised up in the eighth inning by putting their second baseman in short right field.
Aaron Guiel
had a solo home run and a two-run single, and both
Tony Graffanino
and
Kerry Robinson
had three hits apiece.
The Royals go for the sweep tomorrow, and they might stand a good chance at pulling it off.
Scott Elarton
goes to the mound for KC, opposing
Jake Westbrook
, and the Royals will need Elarton to eat some innings after seeing the bullpen depleted the last two games. We'll probably get a somewhat funky lineup on the getaway day, but that also means we might actually see
Justin Huber
get into a game. The Royals have won four of the last six games, and their home record now stands at 7-8. Believe it or not, they're only four games behind the Twins, so with a few more wins the Royals might actually manage to climb out of the cellar.
Speaking of the Twins, we noticed we started getting some traffic from a Twins message board today, and we received some fairly agitated comments. We investigated further and learned that a Twins fan had uncovered a post of ours titled "Why we hate the Twins," which was written during the infancy stages of RC. The column was written a full ten months ago (before Kirby Puckett's death, mind you), but for some reason, Twins fans are a little bit slower than the average fan (how else can you explain the excitement they get from being circled by Bert Blyleven?). Anyway, we got a little bit of a chuckle, and we invite our readers to revisit the post and leave a comment of your own, if so compelled.

Today's as good a day as any for us to announce that you can now read RC's work on the Most Valuable Network. As you know, RC attends tons of minor league games each season, but we always try to limit the content on this site to that which is only Royals-related. On the Minor Details blog, RC (also known as Dave Sanford) will no longer have those limitations, and it will give us an opportunity to write about and publish photos of the dozens of great prospects we see throughout the year. Nothing here at RC will change, and we'll be sure to let those of you who are interested know about the columns that we publish on Minor Details throughout the season. We also have another project in the works, but it's progressing slower than anticipated, so we can't make the announcement just yet. Stay tuned.

Finally, we've published our latest Draft Prospect Update, as promised. There was no movement on our list this week, and Andrew Miller, whose Tar Heels were off last weekend, remains our # 1 prospect. A number of pitchers had excellent weekends, and there are some great matchups coming up this week, so be sure to read all about it.

Also, RC's posting over the next several days will be lighter than normal, as we finish studying for our GMAT exam (which is on Thursday). There will be no Daily Prospect Update on Tuesday or Wednesday nights, and this weekend RC's official father comes to town for the Baltimore series. This is the fourth straight year he's made the trip for the series, and it's become something of a tradition that we both look forward to every year. We catch a couple games as we attempt to drink all of the beer in Baltimore. We've never quite succeeded, but we've both been training pretty hard, so this might be our year.