Hernandez very good again, and other notes...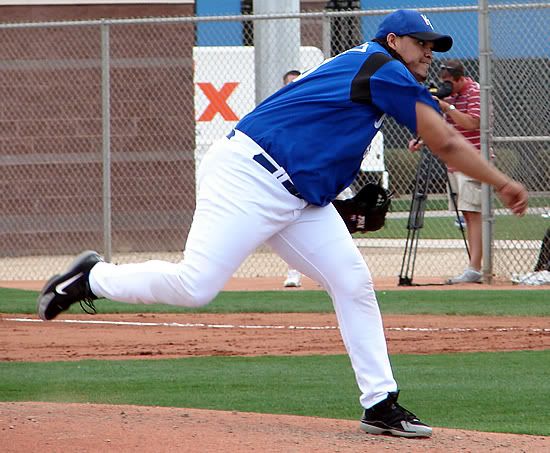 While the performance of Detroit's starting pitcher left us wanting a Jeremy Bonderman for our team too, RC was nevertheless once again quite pleased with Runelvys Hernandez, who turned in his second consecutive quality start in the Royals' 3-2 loss to the Tigers on Monday night.

Aside from a couple of mistakes to Magglio Ordonez and Craig Monroe, Hernandez again showed outstanding control over all three of his pitches, allowing only three runs, four hits, and one walk in 6 2/3 innings of work. RC is slightly concerned with his measly total of three strikeouts in 13 2/3 innings on the season, but as long as he continues to work quickly, keep the ball down, and avoid dishing out the free pass, we think he'll miss more bats by default with the approach he has now.

Part of that approach -- Hernandez's knowledge of changing speeds and disrupting a hitter's timing -- has been a very pleasant surprise, especially after he had such a difficult time getting Triple-A hitters out during his "rehab" stint with Omaha at the beginning of the season. Right now, his combination of a low-90s fastball and fading, mid-70s changeup is as devastating for opposing batters now as it was in April of 2003.

Much like Jeremy Affeldt, Runelvys didn't make many friends here at RC with his poor attitude, work ethic, and performance in spring training, but like his left-handed partner in the starting rotation, his recent outings are starting to change our minds. He's back to pitching like that aggressive monster we saw in 2003, so we can't wait to see how he handles his next test which will come against the White Sox in Chicago.
When Buddy Bell pulled Hernandez from the game with two outs in the sixth inning, he summoned Steve Andrade from the bullpen, wasting no time in getting the 28-year-old righty into game action. RC was anxious to get a look at Andrade, who had struck out an incredible 13.20 batters per nine innings pitched in the minor leagues coming into 2006.

Called up to replace the DFA'd Luke Hudson, Andrade retired all four batters he faced, including one on a strikeout. His fastball only reaches 88 mph, but he showed a very nice slurve that obviously serves as his out pitch. The breaking ball is nasty enough that minor league hitters will chase it out of the zone, but Major League hitters aren't going to be nearly as helpful to Andrade's cause. He'll have to rely on location if he wants to survive in the big leagues.
Although there's no word yet on how serious Mike Sweeney's latest back injury is, we're preparing ourselves for Mike's first (and hopefully only) stint on the disabled list this season. Sweeney tweaked his already-sore back while trying to run out a ground ball in the seventh inning of Monday's game, and was in so much pain that he couldn't even make it to first base.



We may not see swings like this from Sweeney for awhile.

If he does have to go on the DL, the Royals could do something fun like calling up Justin Huber from Omaha, but we agree with Rotoworld that having Aaron Guiel join the club may make a bit more sense. As it stands now, the Royals only have three true outfielders on their active roster, with Esteban German and Monday's leftfielder, Matt Stairs, being the only viable backups. Stairs isn't anybody's idea of a guy who can cover a lot of ground, and after seeing German take a routine fly ball off his grill on Sunday, we'd rather not see him patrol the outfield many more times this year.

At the beginning of the season, some of us here at RC weren't wild about the idea of Stairs and Guiel being on the 25-man roster, but the mass of injuries to KC's best outfielders have forced us to reconsider that option. Additionally, adding Guiel would simply give Stairs more at-bats as the everyday DH, all the while allowing Huber to continue to concentrate on improving his defense in the minor leagues.