RC has seen enough of Joe Mays...
What else is there to say?
Joe Mays
was completely ineffective again tonight against a punchless Twins offense, and in his six starts thus far, he hasn't even come close to turning in a quality outing. His ERA after tonight's game stands at 10.27, and it actually improved after surrendering six runs (two earned) in 3.1 IP. There is simply no excuse for his continued presence in the rotation.
RC
doesn't even care who takes his place at this point, be it
Mike Wood
,
Jimmy Gobble
, or
Denny Bautista
-- who reportedly looked good today in a simulated game. Any one of those guys would at least give the Royals an occasional chance to win, and we simply can't say the same of Mays.
That's enough!

Bautista won't be available the next time Mays' spot in the rotation rolls around, so unfortunately, the chance remains that Mays will stay on at least until Bautista is ready to rejoin the club -- and it's somewhat telling that he threw his simulated game today, which puts Bautista on that throwing schedule. But if that's the case, there still doesn't appear to be any logical reason why Wood (or Gobble) and Mays can't flip roles in the meantime. We simply can't stand the prospect of another Mays start. It was a decent risk and a nice thought, but the Joe Mays reclamation project must end!
Since we neglected to send out a Daily Prospect Update last night, we figured we'd cover some news from the minors to make up for it. We should send out a new Update later tonight, so by the time you read this you will most likely have it in your inbox. We've received a couple of reports that people are having trouble signing up for the update, and our own test of the system seemed to confirm that it might be down. If anyone else is having trouble signing up, please contact RC by sending us an e-mail. Anyway, with that out of the way...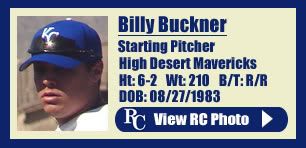 A few pitchers in the Royals minor league system are really standing out this season. Billy Buckner leads the way, and after his win on Tuesday, he owns a perfect 4-0 record and a 2.94 ERA in the hitter-friendly California League. Buckner is repeating High Desert to begin the year, and thus far he's been able to successfully keep the ball down while using his tremendous curveball as his out pitch.

His GB:FB ratio is stellar, and he's yet to allow a single home run while striking out 30 in over 33 innings pitched. RC Correspondent Jon Rosen reported on Buckner a couple of weeks ago, and since that time he's continued to impress us. It might not be long before Buckner moves up to Wichita, and he's beginning to make a strong case as the best pitching prospect in the organization.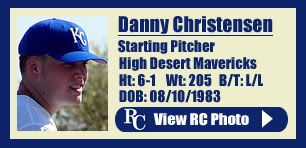 Buckner's teammate, Danny Christensen, is only 17 days older, and he's been every bit as good. In some respects, Christensen's been even better, as his stellar control has led him to a team-best 1.07 WHIP, which ranks third among all starters in the California League.

In addition, Christensen has used his 12-to-6 curve to strike out 33 batters (against just five walks) in 29 innings pitched, and his ERA of 4.03 is very respectable for a High Desert pitcher. Christensen did very well last season for Burlington after missing nearly all of 2004 with Tommy John surgery. His progress this year has been remarkable, and he's also making a strong case to become a very legitimate pitching prospect.
Burlington's Matt Kniginyzky is another pitcher who looks to climb in our rankings. Kniginyzky was drafted in the 23rd round in last year's draft, and he entered the system as a reliever. His first exposure to professional baseball was nothing to get too excited about, as he put up a 4.66 ERA while pitching out of the Idaho Falls pen. In 29 innings, he surrendered 35 hits (.287 BAA) and 13 walks, but he did strike out 40 batters. The Royals liked his stuff enough to convert him into a starter this season, and thus far, the results have been excellent.

Kniginyzky features a low-90s fastball and a hard curve, and he's used those to carve out a 2-1 record with a 3.16 ERA in a Midwest League-leading 37 innings pitched. He's struck out 30 batters while surrendering 32 hits and eight walks (1.08 WHIP), which are very good numbers for a player making his full season debut just 10 months after being drafted. Kniginyzky is already 23-years-old, so the Royals are moving him quickly, but right now he's the anchor of Burlington's staff.

Anyway, that's it for today. In the coming days, we'll point out our take on a few of the organization's position player prospects, such as Chris Lubanski, Chris McConnell, and Matt Tupman.