Rosen interviews Billy Buckner...RC braces for the inevitable...
In lieu of a recap of the weekend's action, which saw the Royals drop their series against the White Sox, RC today is pleased to present another report by our High Desert Correspondent, Jon Rosen. Jon conducted an excellent interview with pitching prospect Billy Buckner over the weekend, and today he reports on first baseman Mike Stodolka and pitcher Danny Christensen: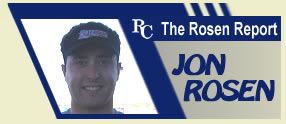 Danny Christensen
continued his tough luck on Friday night. His pitch count was high, but he still came up with five innings in which he gave up just one run. He left the game trailing 1-0, and took the loss as the Mavs were unable to amount a comeback in a 4-1 defeat to a well-armed Modesto staff. Still, his two seam fastball has been well-located on both sides of the plate, and his curveball still has that same nasty tilt.
The only run he gave up in the game last night was a two-strike solo shot by Modesto 1B
Duke Sardinha
- two pitches before the HR it appeared that Christensen had caught him looking with a perfectly placed fastball on the inside corner, but he didn't get the call from the scab ump, who irritated both teams with his strike zone.
Mike Stodolka
has slowed down since receiving the Cal League's hitter of the week award two weeks ago. Since then, he is just 3-27 with only one extra base hit. He still continues to draw walks, however, as he has recorded bases on balls in six of his last eight plate appearances, raising his OBP to a Cal League-leading .440 entering Saturday night's action. He might not have the desired power suitable for a corner infield position, but he makes up for it with his ability to hit lefthanders as well as righthanders (.304 v L; .313 v R) as well as a clean, fluid stroke that sprays balls to all parts of the field.
Still, he is currently mired in a slump, and it will be interesting to see how quickly and efficiently he is able to make adjustments and snap out of it after six years on the pitchers' mound. My guess is that he'll turn it around sooner rather than later, as he is a hard worker with excellent makeup and one of the most well-respected players in the clubhouse. -
JR
Folks, it's no secret that RC's Official Hero may not be employed with the Kansas City Royals much longer. In fact, there's rampant speculation that Allard Baird might even be let go as early as Monday morning. If the hammer indeed falls, it will be a tough pill for us to swallow, but we won't agonize over the decision. There's no question that mistakes have been made and the Royals have lost a lot of games throughout Baird's tenure, and if David Glass feels that justifies making a change right now, then so be it.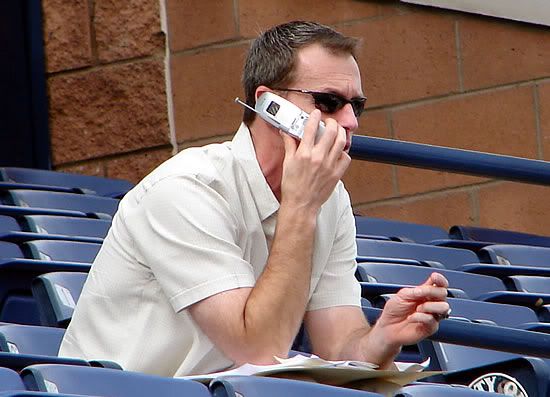 Is RC going to have to find a new hero?



However, we have plenty of fears to keep us occupied. The most immediate concern is the upcoming draft and the effect a major change in the baseball operations staff will have on the Royals' draft preparedness in June. Hopefully these concerns will be addressed at the time a change is made, but if not, there could be disastrous consequences.

Our bigger concern centers around who Glass taps to take the organization's reins. We have no idea who he's talking to (although his buddy Drayton McLane is a strong suspect), but we frankly don't have much confidence in Glass's ability to make baseball decisions. RC's biggest fear is that the Royals will hire a retread with a familiar name who has failed elsewhere with a typical, antiquated approach. Such a move would smack of making change simply for the sake of change when an innovator is required. We sure hope that's not the case.

Of course, it's still too early to fret. As of right now, no changes have been made, so RC is just going to sit back and watch what unfolds. We'll have more to say about all of this if and when a change is actually made. Right now, it's nothing but speculation.