Affeldt shines, but rain wins out...
For once, the folks at Rotoworld got it right, because the Royals truly cannot catch a break. Just about an hour into what looked to be the best game of their young season, the Kansas City skies opened up, bringing a consistent pouring rain that eventually forced the umpires to call the game before it became official. The game was rescheduled as part of a twi-night doubleheader on August 18.
Although seeing a 6-1 lead go by the wayside as if it never happened is a total bummer, a number of positives remain, things upon which the Royals can build starting tomorrow:
Jeremy Affeldt started the game for the Royals and was fantastic for the third time in about a week-and-a-half, tossing three innings of one-run ball with a walk and five strikeouts before the rain came. It was an abbreviated outing, but RC hasn't seen him throw like that as a starting pitcher in some time.

Granted, Affeldt was outstanding in his last appearance which came against Cleveland last Sunday, but he fell behind a number of hitters in that game, leaving us desiring more first-pitch strikes. He did just that on Saturday, throwing two-thirds of his pitches for strikes, and tossing a first-pitch strike to 11 of the 13 Athletics he faced.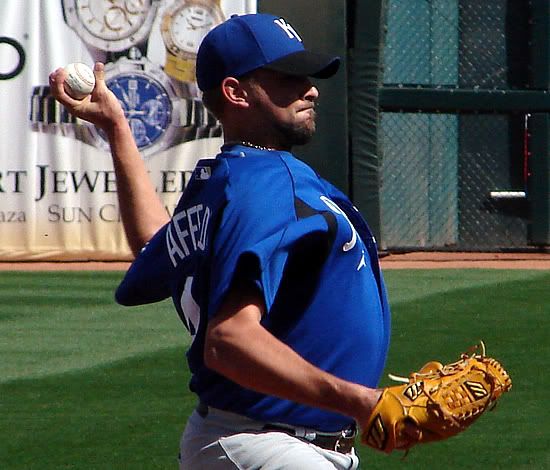 Affeldt overpowered the Athletics from the first pitch on.

However, not only did he pound the strike zone all night long, he did so with quality stuff, once again tantalizing Royals fans everywhere with a mix of a sinking 93-mph fastball, a Bugs Bunny curve, and a cutter that ate up Frank Thomas and Bobby Crosby. In other words, Affeldt was pitching mean and to his full ability, and looked quite similar to that nasty reliever we enjoyed watching back in 2003.

That's a pleasantly-surprising development, as RC never could understand why a 6-foot-4, 225-lb. pitcher like Affeldt chose to "pace himself" when he started, dialing down that heater to the 87-88 mph range. If a pitcher has the ability to throw in the low-90s with control, he should do just that, and not worry so much about what's going to be left in the seventh inning.

The Royals have to be absolutely thrilled with him, as his new-found aggression has led to a three-outing line befitting a top-of-the-rotation starter:
  IP     SO     BB     HR     ERA
14.1     14      6      1    1.28
Needless to say, Affeldt's turned some heads and is starting to change some minds here at RC, and we can't wait to see what he does in his next start on Thursday against the Twins.
The Royals' bats certainly aided Affeldt's confidence when they sent 11 men to the plate in a five-run first inning that included four walks and four hits. Three of those hits stayed in the park, as Reggie Sanders unloaded the bases with a no-doubt grand slam off a struggling Esteban Loaiza that put the Royals ahead 4-0.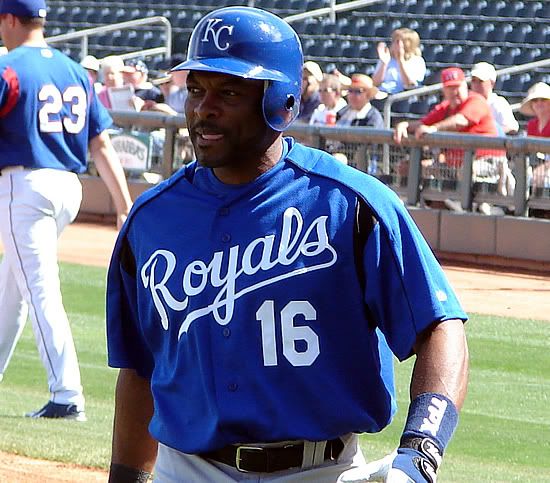 Reggie's bomb almost tagged the Dodge truck beyond the left field fence.

RC was overjoyed not only because we knew that the ball was gone off the bat (it landed about 427 feet from home plate), but also because it very well could be the start of one of his patented hot streaks. Few hitters look as bad as Sanders does when his bat goes cold, but few look as good when he really heats up. He homered on Friday too, so American League pitchers would be well-advised to really focus when facing him for the next couple of weeks.
Sanders was only part of the fun, as the entire lineup seemed to be locked in on Loaiza, who pretty clearly isn't the same pitcher we saw with the White Sox in 2003. Kerry Robinson was placed in the leadoff spot after being called up from Triple-A Omaha (more on that in a moment), and, despite a terrible swing, responded with two singles, a run scored, and three RBI in three at-bats.

Doug Mientkiewicz showed a very good eye at the plate, drawing two walks, while Mark Grudzielanek smoked an RBI double to left-center field off A's reliever Ron Flores. The Royals are starting to swing the bats a little bit better. Hopefully this time, they'll bring the thunder with them on their second road trip of the year.
Although we could see the writing on the wall once we learned of the severity of the hamstring injury to RC favorite Shane Costa, we were somehow still unpleasantly surprised when the Royals called up Robinson to take his spot on the 25-man roster. However, the Royals needed a capable (and we use that term very lightly) centerfielder to hold down the fort until David DeJesus returns to the lineup, so Robinson was chosen, leaving Aaron Guiel in Omaha.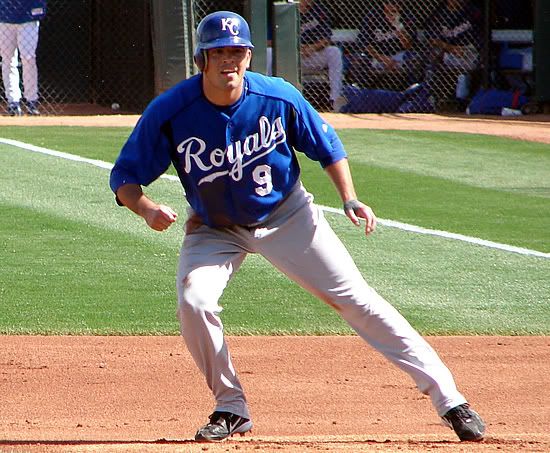 DDJ can't get back soon enough.

We assumed that Guiel would be the one called up since he was already on the 40-man roster, but the Royals simply transferred reliever Steve Stemle from the 15- to the 60-day disabled list to make room for K-Rob. It's likely that Stemle had thrown his last pitch for the Royals anyway, so that's definitely not any kind of a loss.

It's possible that the Joe Mays experiment may come to an end when DeJesus returns from his stint on the DL, albeit more likely when Costa does the same, which should be around the time Denny Bautista would be ready to take Mays' spot in the rotation. Either way, Mays' days in KC have to be numbered. With any luck, Robinson will play like only Kerry Robinson can, and his days will be numbered as well when Costa's fully healed.