Ugh...Royals drop another on the road
The Royals tonight saw their 2006 road record fall to a dismal 2-19 after being shut out by the Indians, 5-0. They have now lost five straight, and although they're only six weeks into the season, it's already their third losing streak of five or more games this year. It's simply stunning how bad this team is playing, and with the next four series coming against the Cardinals, Tigers, Yankees, and A's, things aren't going to get any easier for the Royals.
Jeremy Affeldt
got the start and lasted six innings while taking the loss, surrendering five runs (four earned). He wasn't sharp, as he walked six while throwing only 57 of his 110 pitches for strikes. His pitches seemed to have decent movement, and he only surrendered three hits, but the control just wasn't there. He gave up a run in the second inning on a two-out single to
Casey Blake
, but the game was essentially over in the following frame. Affeldt loaded the bases on two walks and a miserable error by
starting third baseman
Tony Graffanino
, and he grooved his first pitch -- an 89 mph fastball down the middle -- to
Travis Hafner
(wouldn't you like to have him?), who promptly deposited it well over the right field wall for a grand slam and a 5-0 lead.
The Royals' offense looked terrible again, and they were completely helpless against
Jake Westbrook
, who went the distance for his second career shutout. The lineup again was a hodgepodge of irrationality, as
Kerry Robinson
and his .286 OBP continued to occupy the leadoff spot,
Doug Mientkiewicz
and his .640 OPS remained in the three-hole, and both
Justin Huber
and
Esteban German
continued to collect splinters while rotting on the bench.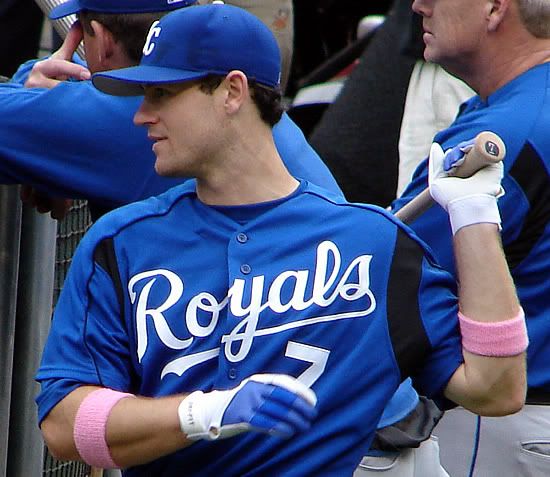 Huber should get to play on Thursday afternoon against Cliff Lee.
In fact, this Huber situation is perhaps the most infuriating and irrational thing
RC
has ever seen the Royals pull off. Wednesday marks two weeks since he was recalled to the Royals, and in that time, Huber has started just two games, pinch hit twice, and has logged a pathetic total of EIGHT plate appearances in the Royals' 12 games since May 3. The Omaha Royals have played 15 games in that time, and if you figure that Huber would have averaged about four at bats a game, he's now lost over 50 at bats he would have otherwise had. In addition, since he hasn't played a single inning at first base in the last two weeks, he's also lost 15 games worth of defensive experience. Wasn't Huber's need for defensive improvement cited during Spring Training as the primary reason behind his return to the minors?
The Royals need to either start giving him more playing time in KC, or they need to send him back down to Omaha where he'll play every day. The current situation is simply inexcusable. There's a chance that Huber will be returned to Omaha when
Shane Costa
rejoins the club this weekend, but it's equally likely that left-handed hitters Robinson or
Aaron Guiel
will be the player making the trip back up I-29. While we pine for the days when Robinson will no longer be on the roster, we're keeping our fingers crossed that Huber will be the first to go.
In other news, the Royals have removed the struggling Ambiorix Bugos from the closing role. Burgos has blown his last three saves in spectacular fashion, and he'll return to a middle relief role. After discussions between Buddy Bell and Bob McClure, the Royals tapped Elmer Dessens to take over the closing duties until Mike MacDougal returns from the DL, which should be sometime in July.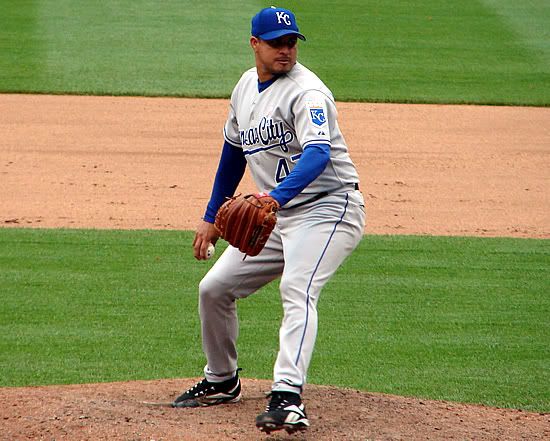 RC is somewhat indifferent on this move. We really liked Dessens in his previous role, and we're sure the Royals would have preferred to keep him there. That being said, when you look at the other candidates, Dessens does appear to be the least-bad option. Dessens has never closed before in over 1000 Major League innings, but there's really nothing to suggest that he's not capable of handling it. He throws strikes and keeps the ball down, and so far this season he's only surrendered four walks and one homer in 22 innings while striking out 21.

Our only concern is that Dessens has been the Royals' best pitcher out of the bullpen this year, and this move will almost certainly curtail the number of innings he throws while giving more innings to guys like Jimmy Gobble and Joe Nelson. Of course, it may also open up more opportunities for Joel Peralta, who's also pitched quite well this season, and it will give Burgos a chance to work a few more innings while hopefully regaining confidence in his splitter. We suppose there was no perfect solution to the problem, but this change does make some sense. Hopefully it will work out.