Rosen reports on Luis Cota and Adam Donachie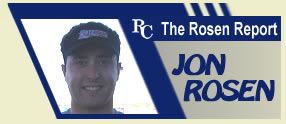 Lost in all the draft hoopla,
Luis Cota
had an inspiring start for High Desert at Mavericks Stadium on Monday night. Coming off a seven-inning start against the punchless Lake Elsinore Storm in which he did not allow an earned run, Cota returned home to the high winds and light air and dominated the first place Inland Empire 66ers for 7.1 innings. Cota struck out seven while walking just one batter and scattering four hits.
From the first pitch, he was throwing darts and was helped by his ability to get that first pitch over for strikes. His slider was consistently thrown for strikes as well - and he was able to throw it in any count, at any point in the game. Cota even threw his change-up for strikes, meaning that the experienced batters in this league couldn't just wait back for his fastball.
Luis Cota has been pitching much better lately.
He struck out possible league MVP candidate and acclaimed Mariners' prospect
Mike Wilson
twice, and also retired
Matt Tuiasosopo
on a tapper to the mound before Tuiasosopo tried to bunt his way on later in the game, though unsuccessfully as
Adam Donachie
fielded the bunt, spun towards first base, and gunned down Tuiasosopo by several steps. Cota is yet to make three quality starts in a row, but will have another crack at the inconsistent Lake Elsinore lineup likely on Saturday night.
Donachie's defense has always been playable at higher levels, and despite his .294 average and twelve home runs in 2005, doubts were still raised about his offensive ceiling. This year, he has improved at recognizing breaking pitches, and not lunging at sliders outside of the strike zone. He hit a home run to straight away center field Monday night, well over the hitter's backdrop in a blast I would estimate at 410-425 feet.





Donachie is hitting .291/.380/.419 this season.



Because he was a former switch-hitter, Donachie feels more comfortable against lefthanded pitching. After batting nearly .450 against lefties last year, he is hitting nearly .350 against them this year. Two of his three homeruns are against lefties, including a mammoth shot off highly touted Diamondbacks prospect Matt Chico, who is now succeeding in double-A.

Donachie's arm is nearly unrivaled in this league, as he has thrown out 53% of basestealers, many of them from his knees. He forces teams to rework their offensive strategy, as the Mavericks have drawn the fewest stolen bases attempts in the entire league. Catchers don't have to hit .300 to make a major league roster, and with the way his arm has played as a professional, it seems Donachie could find a niche for a couple years in the major leagues as a backup/platoon catcher out of the mold of Jason LaRue. -JR