Royals finally play good game, stand at 2-2 on road trip...
For the first time in nearly a month, the Royals controlled a game from start to finish, picking up a solid 6-4 win over the struggling Oakland A's. The offensive attack included 13 hits and four doubles, two of which were hit by
RC's
budding favorite player,
Shane Costa
.
Seth Etherton
, who was acquired over the weekend from the Padres, pitched well in his first start for the Royals, picking up the win while allowing two runs (one earned) and six hits in five innings pitched. The A's battled him all evening, fouling off pitches left and right, and Etherton was removed after the fifth when his pitch count climbed to 100. Amazingly, his was just the fifth win by a Royals' starter this season.
Costa hit two doubles today.

In fact, it will be interesting to see how the pitching rotation shakes out this week. As you surely know by now,
Runelvys Hernandez
was cast away to the minors after his pathetic outing on Sunday, and it doesn't sound like a return to Kauffman Stadium is in the cards for Hernandez anytime soon. 810 WHB reported that Hernandez was not at all pleased with his demotion, and that he threw something of a hissy fit when he learned he was heading back to triple-A.
Mark Redman
is scheduled to return to the club on Tuesday after missing several days while on bereavement leave. If his forearm is no longer sore, he could rejoin the rotation this week, and he's presently scheduled to pitch on Saturday against the Mariners, which was Hernandez's turn in the rotation.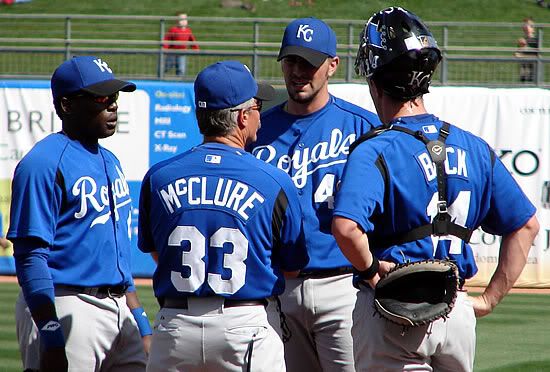 Affeldt might not be in the rotation much longer.
Of course, that doesn't mean that
Jeremy Affeldt's
spot in the rotation is safe. Word is that
Bobby Keppel
will also join the rotation, so if Redman's forearm is no longer nagging him, all signs point to Affeldt being sent back to the bullpen. This is a very welcome development for
RC
, as Affeldt has been terrible in all but three starts this season. Keppel has been very effective in his two extended relief appearances, so hopefully he'll carry some of that over into the starting rotation. At the very least, we hope Keppel can simply keep the Royals in the game, which is something that Affeldt has been completely unable to do. If Redman's good to go on Saturday, we expect to see Keppel make the start against the Mariners on Friday in place of Affeldt.
Another welcome development today occured when David DeJesus made his return to the Royals after spending several weeks on the DL with hamstring injuries. To make room for him on the roster, the Royals optioned struggling fan favorite Aaron Guiel back to Omaha. It's never fun to see a guy like Guiel sent down, but there were few options available. In a perfect world, we suppose we'd prefer to see Matt Stairs persuaded to begin his coaching career a little sooner than anticipated, but that unfortunatly isn't a realistic option. Some folks would probably prefer to see Emil Brown sent down, but those are the same people who ignore the fact that Brown is currently the Royals' hottest hitter.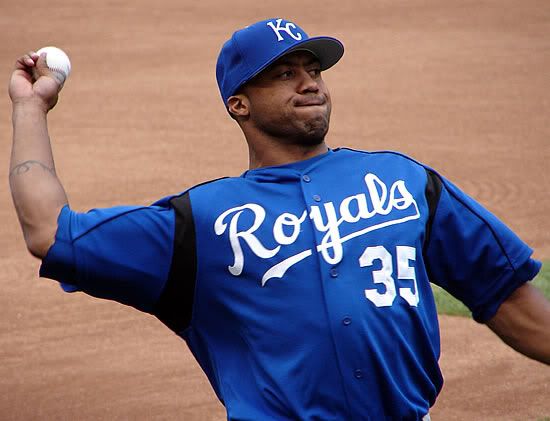 Brown is on an offensive tear.

In fact, in the 11 games since May 19, Brown has gone 17-for-40 (.425), raising his batting average from .215 to .267 while hiking his OPS to .755 (up from .649). He had a similarly miserable April last year, but Brown began to hit in May (.313/.389/.506) and carried his pace through the rest of the season. This May, Brown is hitting .302/.351/.500, and he's starting to again show that short, quick stroke RC loves to talk about. Guiel is a nice option to have off of the bench, but we agree that Brown's continued presence in the Royals' lineup offers more value to the club. Besides, with the way injuries have ravaged the roster this season, we wouldn't be surprised to see Guiel back up pretty quickly.

Of course, there's always a concern associated with any move, and our biggest in this case is that DeJesus's return to the lineup might start to cost Costa regular playing time. With the starting outfield again relatively healthy, it will be interesting to see if Buddy Bell manipulates the lineup to continue getting Costa steady at bats. It certainly wouldn't hurt to see Brown supplanting Stairs as the primary DH, but we've given up on predicting the construction and "logic" of Bell's lineups. Is Brown a "DH-type" player? Apparently, only Bell knows the answer to that...or at least, his is the only opinion that seems to matter. Regardless, it would be an awful shame to see Costa taking a seat next to Esteban German in the dugout four out of every five games.
The amateur baseball draft is only one week away, and RC is still planning to unveil our final Draft Prospect Update, which will probably come on the Monday before the draft. We were pleased to learn yesterday that North Carolina is hosting an NCAA regional, so RC will be in Chapel Hill this weekend getting one last look at our top-ranked player, Andrew Miller. Miller had a rough outing in the ACC tournament, picking up a loss against NC State while allowing seven runs (five earned) over six innings. He'll be well-rested, and he should get Friday's start vs. Maine, so we'll be sure to take photos and provide a report from Chapel Hill.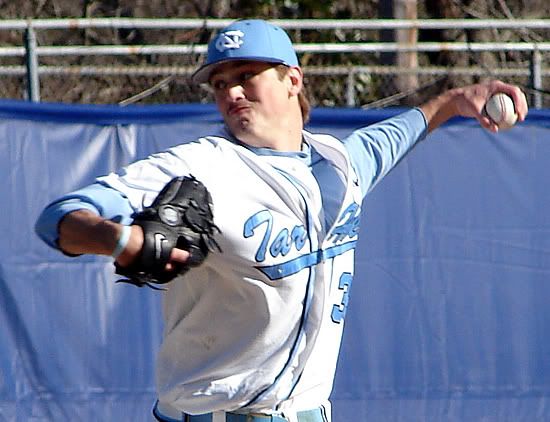 Miller has one last shot to impress the Royals...and RC



Also, we'll stay on top of the GM search this week, as Dayton Moore will presumably decide whether or not to accept David Glass's rumored offer to take the organizational reins in the coming days (Please!). We'll have more to say about our disappointment with Glass's conduct over the past month, but for now, we can do no better than to refer you to Joe Posnanski's excellent columns from the past week, here and here.

Anyway, that's what's on tap for this week. Stay tuned!