Greinke shines in 2006 debut...Keppel very good as well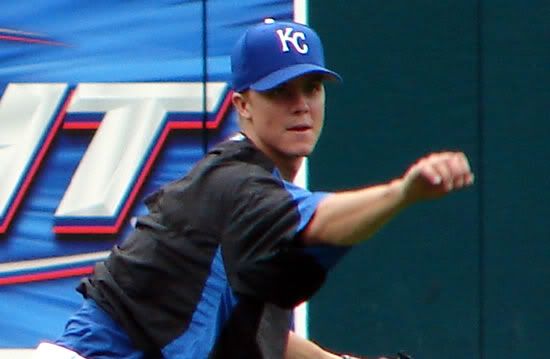 Zack Greinke was outstanding on Friday.
Zack Greinke
on Friday was excellent in his first start of the season for Wichita, as he picked up a victory over the San Antonio Missions after tossing five strong innings. Working on a pitch count of 65-70 pitches, Greinke surrendered only four hits and a walk while allowing one earned run, and he didn't seem to have any trouble with his command. The one run he gave up was very soft, coming by way of a hit batter, an weak infield single, and a broken bat flare to center.
Admittedly, the Missions are the worst offensive club in the Texas League, but we couldn't be any more encouraged by Greinke's outing. He can only spend 20 days in Wichita on his rehab assignment, and if he continues to pitch like this, he should be back in KC within the next couple of weeks. Right now, he's expected to make 1-3 more starts for Wichita, but it's been reported that he could return to the Royals after his next start.
The Royals game, unfortunately, didn't go quite as well. Jamie Moyer owns KC, and it was no different today, as he shut out the Royals on just two hits. The game's only bright spot today was the rotation debut of Bobby Keppel, who took the loss despite throwing 6.2 very solid innings. He surrendered six hits and a walk while striking out four, with the only damage coming on back-to-back solo home runs in the seventh inning by Jose Lopez and Raul Ibanez. Jeremy Affeldt entered the game in relief, and in one inning of work, he finally managed to get his ERA over 8.00.

The Royals try again tomorrow, as Seth Etherton will look to build upon his solid Royals debut while opposing Joel Pineiro. Pineiro is the type of pitcher who scares RC, so we're not sure what to expect.
As planned, RC this morning drove to Chapel Hill, NC, to catch an NCAA baseball regional tournament and to get one last look at Andrew Miller before Tuesday's draft. The weather tonight was lousy, and once we learned that Miller wasn't scheduled to start (which, ummm, would have been some easily obtained and very handy information), we decided to skip the opening matchups while opting instead to listen to Wichita's game. Miller is scheduled to pitch tomorrow (Saturday), so we should have a report and some photos ready for you sometime tomorrow night.

Also, be sure to tune in on Tuesday, as RC will host a live draft tracker throughout the day, complete with as much information as we can obtain about the Royals' picks. Draft day is our favorite day of the year, and we can't wait to see which players the Royals select.

Finally, on Sunday morning at 11:25 AM CST, RC will be a guest on "Life's a Pitch," a radio program on Sports Talk Cleveland. We are scheduled to discuss a number of different topics, ranging from draft candidates to the Cleveland Indians' farm system. You can listen to the webcast here, if you're interested in hearing us babble.
Finally, we have some news to report about the "big changes" coming to Royals Corner. We signed a contract today, so you can expect an official announcement sometime this weekend, as soon as we are assured that it is OK to do so. Stay tuned!