RC has long day at the yard, reports on Andrew Miller's final pre-draft start
Actually, calling today a "long day" is something of an understatement. Before we even saw
Andrew Miller
and the Tar Heels take the field,
RC
sat through one of the most amazing games we've ever witnessed. The scoreboard speaks for itself: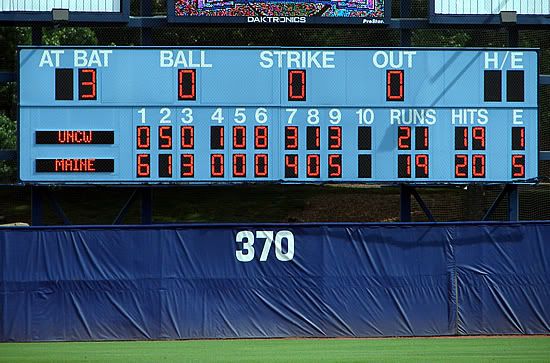 And Maine should have been charged with a few more errors than that...
The North Carolina sun was beating down on
RC's
freshly shorn official head, and we just wanted the damned game to end. We even volunteered to pitch in order to speed things along, but we were rudely ordered to return to our seat. Frustrated with the situation, we searched for some shade on the concourse, and we had a chance encounter with the last person we expected to see in Chapel Hill, NC.
Poz was in the house!

Yup,
RC
today met the
KC Star's
Joe Posnanski
, who turned out to be a quite friendly fellow (although to his detriment, we don't believe he had ever heard of
Royals Corner
). We chatted for a few minutes about the Royals, and
RC
probed for some inside information, but ultimately all we got was the same information that has already been reported in the
Star
. Posnanski told us he thinks the Royals' first draft pick on Tuesday will be either Miller or Houston's
Brad Lincoln
, and he thought it was about 50-50 between those two players. After a few more minutes, Poz excused himself, and the day's first game finally ended shortly thereafter.
Anyway, enough about all that...People want to know how Miller looked today, and
RC
came away from the game with a solid opinion.
Good news -- The porn-stache is gone!

We
first reported
on Miller in February, after we watched him make his first start of the 2006 season against a very weak Seton Hall squad. For the most part, we liked what we saw, although we were surprised that his fastball velocity (88-92 mph) was lower than we had expected. He showed us his dynamite slider, which he threw 77-78 mph, and he had no trouble missing Seton Hall's bats all afternoon while striking out nine in six shutout innings. We wondered then how he'd look against a better club, and today's matchup against quality Winthrop team gave us an opportunity to see for ourselves. Winthrop entered the game with a 45-16 record, which included wins against top programs like Miami, Clemson, Alabama, and North Carolina, and Winthrop's team batting average on the season was over .330.
Miller last pitched in the ACC tournament about 10 days ago, so he wasn't very sharp. His velocity on his fastball was better than in February, sitting at 91-93 and occasionally climbing to 94, but it still fell short of our expectations after reading reports that he was consistently in the mid-90s. He held his velocity fairly well throughout the game, although the average FB velocity dropped to around 91 mph from the fifth inning on. His slider was also up a tick in velocity, with most coming in at 81 mph while ranging from 79-84. It looked like he had good movement, but it didn't miss a whole lot of bats, and the home plate umpire wasn't giving him many calls on the outside corner vs. lefties.
The thing we found most surprising was how frequently he used the slider. We didn't keep a close pitch count, but it wouldn't surprise us to hear that he actually threw more sliders than fastballs in the game. Indeed, several pitch sequences to left-handed batters began with three or four consecutive sliders, and although many of those sliders turned into Winthrop base hits,
RC
was surprised they didn't manage to do more damage against what became a very predictable strategy.
One thing we didn't see much of, however, was Miller's changeup. We saw him throw one change in the first inning that went for an RBI single, and after that, Miller was essentially a two-pitch pitcher throughout the remainder of the game. However, Miller was somehow able to make it work, pitching his way out of trouble and relying on some nice defense behind him.
On the day, Miller surrendered nine hits and four earned runs in eight plus innings while striking out six and walking three. He was removed from the game to a thunderous ovation from the partisan home crowd in the ninth after giving up a leadoff single. He threw a total of 114 pitches while picking up the victory, and it was actually quite shocking that he was able to last that long, after he labored through 27 pitches in the first inning. We expected him to be removed from the game after the Tar Heels exploded for six runs in the bottom of the sixth, but Miller came back out and breezed through the seventh and eighth innings.
All told, it was a quality appearance by Miller, but it wasn't the type of dominating performance in an important game that you'd hope to see from a guy you're considering for the #1 overall selection. Was it enough? We can't say, but we do know that the Royals had four scouts covering the game. We spoke briefly with a Baseball Operations official we recognized, although we knew he wouldn't reveal anything, so we didn't even ask.
RC
simply wished him luck with the decision, and we hope that today's game gave the Royals enough information to make the right decision.
Was Posnanski impressed? On the way out, we stopped by and asked him what he thought of Miller's performance.
"Ehhh, he's competitive," said Posnanski, but he left it at that. It will be interesting to read his next column. As for us, we'll be happy to share our final thoughts on the first pick in our final Draft Prospect Update on Monday. Stay tuned!
For more photos of Andrew Miller from today's outing, click
here
,
here
,
here
,
here
, and
here
.