The Dayton Accord...
RC
has mixed emotions about today's events. First, and most importantly, we're absolutely ecstatic about
Dayton Moore
. Moore was heralded by nearly everyone in baseball as the finest young general manager candidate around, and it's great news that owner
David Glass
was not only able to identify him as such, but that he was also able to convince him to come to Kansas City. And we couldn't be happier that Glass's days of meddling in the baseball operations of the club appear to be either at an end or severely curtailed. Moore today denied reports that he had been given a written guarantee granting him full authority on personnel decisions, but he did express enthusiasm about his arrangement with Glass.
"I feel very comfortable with the parameters I've been given and the autonomy I've been given," said Moore during his afternoon teleconference with reporters.
Moore will not take over the reins immediately, as Braves' GM
John Schuerholz
came to an agreement with Glass that Moore will remain with Atlanta through the draft on June 6-7. Moore's tenure in KC will begin on June 8, when he will be introduced in a press conference at Kauffman Stadium, and he plans to immediately begin a period of evaluation as he meets with front office personnel and learns about the organization.
Moore made the rounds today after the announcement, hosting a teleconference and appearing on the Royals' postgame show on 810 WHB. He pretty much stuck to the script, talking about how excited he was and how confident he is in the Royals' ability to one day field a contender. This was the first time
RC
had ever heard Moore speak, and our initial impression is that he's a very thoughtful baseball man who has a solid idea of how to run a ballclub. He sounds firmly committed to scouting and player development, and we hope he can bring a fresh approach to an organization that hasn't graduated a significant starting pitching prospect from its minor league system in nearly a decade. All told, this is a day for celebration, as the Glass ownership truly did hit a home run with the hiring of Dayton Moore.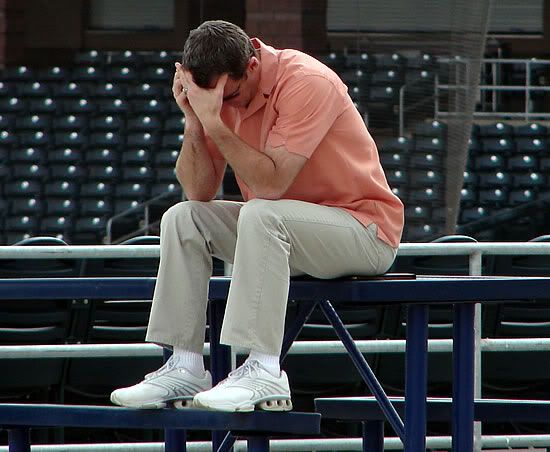 Farewell, Allard.
Unfortunately, it wasn't a good day for
Allard Baird
, a man who devoted both his heart and 18 years of his professional life to an organization he loved. We're not bitter that he was fired -- it was indeed time for a change -- but we are not at all happy with the manner in which it happened. The way he was left lurching in the wind for the past month was a disgrace that shook our previously held confidence in David Glass to its core. Thankfully, resolution came today, and
RC
bids Baird the best of luck in whichever club is the first to hire him. He's a class act in the truest sense of the word, and it won't be long before he finds a new home.
RC's
search for an Official Hero begins anew.