Royals make it a baker's dozen...RC reports on Bobby Keppel
RC
was wrong...It CAN get worse, and it has. The Royals today jumped out to a 6-0 lead in the first inning against the Tigers, which included back-to-back-to-back home runs by
Tony Graffanino
,
Angel Berroa
, and
Doug Mientkiewicz
, but they still managed to snatch defeat from the jaws of victory. The Royals actually led pretty comfortably through the first seven innings, and they entered the eighth with an 8-5 lead, but the bullpen imploded again, allowing eight unanswered runs over the final two frames to lose 13-8.
German hit his first Major League HR today!

Today was a day of firsts for the Royals. This was the first time in history that the Royals have been swept by the Tigers in a four game series. In addition, Mientkiewicz, who has spent much of his time occupying the third spot in the Royals' batting order, finally hit his first home run of the season. So did
Esteban German
, whose fourth inning dinger was his first career home run. To
RC's
disappointment, he didn't perform the "Esteban Flip" after his blast, but we did notice it in an earlier at bat after a line drive single. On the day, German went 3-for-5 with two runs scored and an RBI while raising his team-leading BA to .394. In fact, German remains as one of the true bright spots on the team, and his line of .394/.476/.465 through 71 at bats is truly remarkable. Hopefully he'll start to get regular playing time.
Of course, there was another "first" today. Bobby Keppel was promoted from Omaha prior to the game, and Denny Bautista's short, lackluster outing prompted Buddy Bell to summon Keppel to make his Major League debut in his first game in Kansas City. Keppel was excellent today in his debut performance, going 3.1 IP while striking out four and allowing two hits and a walk. He surrendered one run, which was charged to him after Ambiorix Burgos surrendered three hits and two runs in two-thirds of an inning after entering the game with one on and nobody out in the eighth.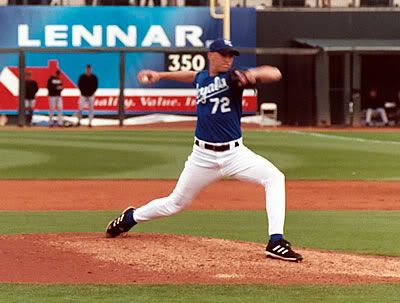 Bobby Keppel made his Major League debut today.

Many people are asking, "Who is Bobby Keppel, and where did we find this guy?" RC has some information about him, thanks to some well-placed sources, so we're here to give you the scoop.

Keppel was drafted as the 36th overall pick in the supplemental first round by the Mets in 2000. The Royals wanted him at #44, and were negotiating with him, but the Mets got him first. He's a sinker-slider pitcher with solid control, and low-90s fastball, and good movement, and he's still only 23-years-old (he'll turn 24 next month).

Keppel was a star in the minors for the first few years of his professional career, rising all the way to #7 on the Mets' Baseball America prospect list in 2004. He tossed a no-hitter for Binghamton (AA) in 2003, and the word is that he is very successful at "outthinking" hitters, relying on an advanced knowledge the game. He's also an incredible athlete, as he fields his position very well, and he actually had an opportunity to play Division I basketball at Notre Dame after graduating from DeSmet High School in St. Louis.

However, Keppel's nemesis throughout his minor league career has been injury, which has plagued him nearly every season. Last year, Keppel decided to stop pitching through his shoulder tendinitis, and he consulted Dr. Jobe in Los Angeles, who found fraying but no tear. Jobe cleaned up the shoulder and issued a good prognosis, but the Mets released him from their 40-man roster with the assumption that nobody would claim him.

Keppel cleared waivers, but he eventually became a free agent, and he reportedly received much interest. However, the Royals -- in particular Royals' Director of Baseball Operations, Jin Wong -- were the most aggressive in pursuing him, and Allard Baird sealed the deal by calling him directly, which is quite a compliment for a minor league free agent. Keppel signed a contract that stipulated that he would be placed on the ML roster by June 2006 or become a free agent.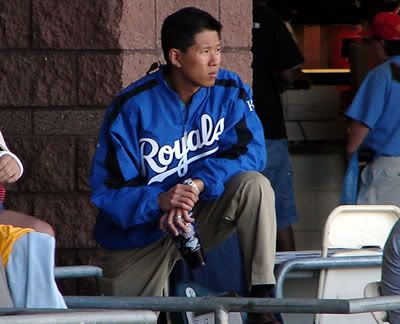 Not only did Jin Wong find Keppel, it also looks like he has a little "Captain" in him!



Keppel's numbers at Omaha this season before his promotion weren't great, as he logged a 3-4 record with a 5.00 ERA in 54 IP. He allowed 59 hits while walking 11 and striking out 27. However, his spring training outings were pretty much limited to one-inning stints, so his stamina wasn't quite up to speed at the beginning of the season, and much of the damage he allowed came in the later innings of his starts. He could be a quality middle reliever for the Royals, and it will be interesting to see how he adjusts in the coming weeks. He's certainly off to a good start, and RC hopes he continues to pitch well.
Unfortunately, RC hasn't exactly been very diligent with our Draft Prospect Updates of late, but we assure you that we'll be back up to speed very soon. Our next prospect update will narrow our list of candidates to five, since it's pretty clear that the Royals have focused their attention on a few players.



Andrew Miller is still our projection for the #1 pick.

There's really no point in continuing to track the progress of players like Matt Antonelli, Wes Hodges, and Joba Chamberlain, so we'll focus only on the players who have a legitimate chance to be selected. North Carolina's Andrew Miller still leads the pack, but you might be surprised about what we have to say. Stay tuned!