11 and counting...
When will this end? The Royals tonight jumped out to a 4-0 lead over
Kenny Rogers
and the Tigers with the help of home runs by
Mark Grudzielanek
and
Reggie Sanders
, but the bullpen again faltered as the Royals dropped their 11th straight game, 8-5.
Runelvys Hernandez
looked pretty sharp through the first five innings, but he was unable to escape the sixth. On the night, he surrendered two earned runs and eight hits in 5.1 IP, both runs scoring on a two-run blast by
Carlos Guillen
.
Mark Grudzielanek belted his first two home runs of the season on Tuesday night.
Ambiorix Burgos
relieved Hernandez in the sixth and coaxed an inning-ending double play, and he pitched fairly well for 2.1 innings. He allowed a run in the seventh on a
Curtis Granderson
double, and he struck out the first two batters in the eighth inning before issuing a two-out walk to
Craig Monroe
.
Buddy Bell
then summoned
Elmer Dessens
from the bullpen, and disaster ensued. Dessens surrendered four consecutive base hits as the Tigers hung four runs on the scoreboard in the inning, jumping out to a decisive 7-5 lead. The Royals were unable to mount a comeback, and their record fell to an unimaginable 10-33.
After Tuesday's game, the Royals announced that Mark Redman will be unable to make his scheduled start on Wednesday vs. Jeremy Bonderman, due to soreness in his left forearm. There was no word on who will make the start in his place tomorrow, but the Royals' website is predicting that it might be Jimmy Gobble. Gobble last pitched on Sunday, when he threw an inning against the Cardinals, so he should be good for a few innings if they need him.

However, we also noticed that Omaha's scheduled starter on Tuesday night, Adam Bernero, did not make his start as planned. RC wouldn't be surprised if he's actually the one who gets the call tomorrow. Of course, that would require the Royals to make a roster move, assuming they don't put Redman on the DL. We'll just have to wait and see what unfolds. Bernero is 1-1 with a 3.32 ERA in nine games, including five starts.
Since there will be no Daily Prospect Update tonight, there were a couple of events around the minors on Tuesday that are worthy of discussion here. First, Alex Gordon left Wichita's game in the third inning after being hit by a pitch in the back during his first at bat. Word is that he might not play in Wednesday afternoon's game either, but that it's strictly a precautionary measure. He should be back quickly, so there's probably nothing to worry about.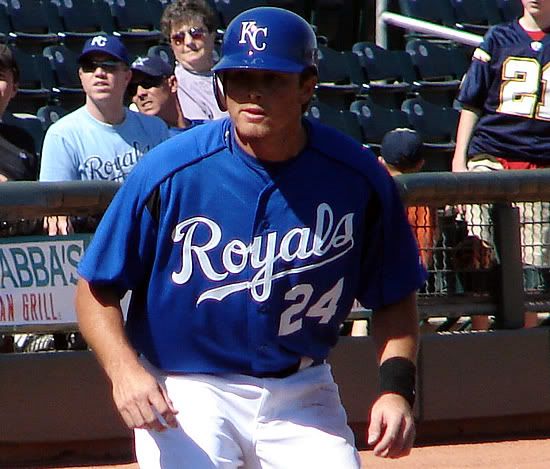 Mark Teahen isn't going down without a fight.



Also, it would be silly not to mention what Mark Teahen has been doing over the last week. On Tuesday night, Teahen went 4-for-4 with 3 RBIs and his second triple of the season. His batting average in Omaha is now up to .392, and nobody in the Pacific Coast League has been hotter for the past week. Over the last eight games, Teahen is 18-for-28 (.643) with five doubles, two triples, and nine RBIs. RC hopes he keeps it up, because it's far too soon to give up on him.