It doesn't get much worse than this...
For only the second time in his life,
RC
Correspondent
Chris Ray
-- the biggest Royals fanatic of all -- willingly left a game early out of disgust on Sunday afternoon.
RC
Correspondent
Kevin Agee
also relayed a sad story from the aftermath of today's game, which concluded with the Royals' ninth straight loss and a sweep at the hands of the hated Cardinals:
"When I went after some BBQ at this great place called Bandana's, the lady at the pick-up counter saw my KC hat, looked at me with pitiful eyes, and said, 'Oh ... So I guess you saw the game today...'
"Usually, fans of crappy teams get mocked. We get apologized to."
Bandana's BBQ: Refusing to mock Royals fans since 2006.
Yes, it was an ugly, frustrating, and embarrassing weekend for Royals Nation. In fact,
RC
had a similar incident of our own today, even though we were separated from the Missouri Massacre by over 1000 miles of flyover land. We were at a minor league game on Sunday afternoon, and the Trenton Thunder's (Yankees AA affiliate) announcer started giving us some grief about the slaughter.
"Yeah, well the Cardinals are just catching us at the right time,"
RC
retorted.
"What's that? 2006?" he asked.
Yeah...2006. We set ourselves up for that, but he's absolutely right. This is just a bad team mired in what very well might be the worst season in Royals' history. Hell, at the rate they're presently going, this just could ultimately be the worst season in Major League history.
After today's game,
Scott Elarton
blew his top
and called out his teammates, although he refused to name names.
"We're just terrible. There's no two ways about it," Elarton told the AP. "We're pretty much bad every facet of the game...
"I'm talking about the guys in this room. If it doesn't burn you when you lose, then you're not going to get any better."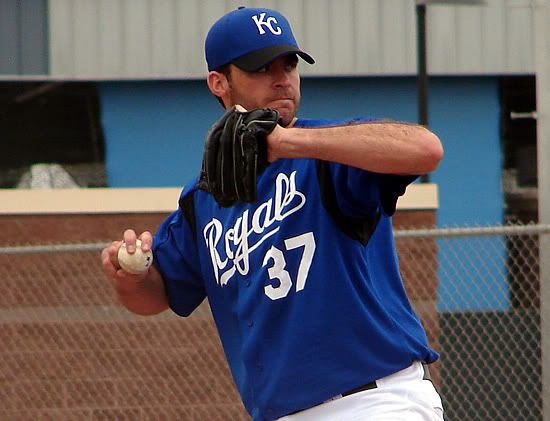 Scott Elarton is fed up.

Have some of the players in the clubhouse given up? We sure hope not. Will Elarton's comments help motivate the team into playing better baseball? We seriously doubt it. The Royals are playing as though they're just waiting to lose. They know they stink right now, and Elarton going off on his teammates probably isn't going to help anything. It reminded Kevin of a similarly pointless exchange from the
Naked Gun
trilogy:
Frank Drebin
: Cigarette?
Tanya Peters
: Yes, I know.
Maybe
Buddy Bell
should throw a
Hal McRae-style tirade
(along with a couple of phones and ashtrays), but fun as it would be to see, even that probably wouldn't help. All we know is that something definitely needs to change, and we all have opinions about what that change should entail. There's certainly no immediate cure-all, but it sure would help if there was. Right now, all phases of the Royals game are pretty terrible.
"If that continues," said Elarton, "it's going to be a long season. And if nobody in here cares about it, it's going to get worse."
Worse?