The best of both worlds...Huber AND Robinson sent back to Omaha
RC
just wanted to make a quick note before tonight's game. We knew that
Shane Costa
was scheduled to return to the Royals today after his rehab in Wichita went well, but we didn't know for certain who they'd send off the Major League roster to make room. The speculation was that it would be
Justin Huber
, which was certainly our preference, but we wondered if the Royals would be comfortable carrying six outfielders and only five infielders.
Well, the Royals today did in fact make the obvious choice by replacing Huber with Costa, but they also trimmed the abundance of outfielders by sending
Kerry Robinson
away and recalling
Andres Blanco
, who was hitting .282/.324/.405 in Omaha. Blanco got off to a great start this season but has cooled off a bit recently, and his defense has been surprisingly poor -- he made 12 errors in 38 games.
Buddy Bell
said before tonight's game that Blanco will spell
Angel Berroa
on occasion while he's up, so hopefully he won't get the Huber treatment (he's not starting tonight).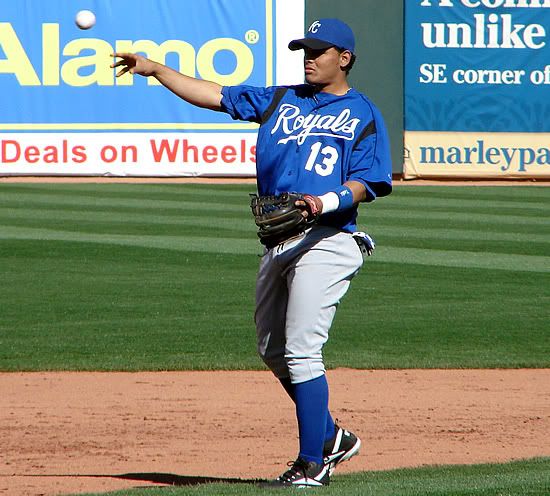 A pleasant surprise...No more Kerry Robinson, and less playing time for Angel Berroa (hopefully).

Of course, the equally exciting thing about today's roster move is that we no longer have to watch Robinson bat leadoff. We feared that since Robinson was the first outfielder called up when both Costa and
David DeJesus
went down,
Aaron Guiel
-- who is a far superior player -- might be the first outfielder sent away. Thankfully, that wasn't the case.
Anyway, it's almost time for the game to start. The most important thing is that we BEAT THE CARDS!