RC notes: Royals drop series to D-Rays
RC
today liked KC's chances of winning, as we figured
Scott Elarton
might keep the Royals in the game while the offense beat up on an experienced Tampa Bay starter. But the only beating dished out was by the D-Rays, who tied a club record with six home runs en route to an 8-2 victory. Elarton lasted only 4.2 innings, surrendering eight hits (including three home runs) and four earned runs.
Elarton has now allowed four or more runs in six of his last seven starts, and he hasn't had a truly good outing since his May 5 start against the White Sox. In those seven starts, he's allowed a total of 12 home runs, after allowing seven in his first seven outings. Hopefully he'll turn it around, but today's start is probably the type of performance we should expect to see a lot more of throughout the season.
The offense managed 10 hits but could only score two runs. In fact, in the ten games played thus far in June, the Royals have now scored two or fewer runs six times, losing all six games. But as bad as the offense continues to look, it's surprising to see that some players are having remarkably good months.
Doug Mientikiewicz
has led the way in June, posting a batting line of .429/.515/.500. Minky is 17-for-41 (.415) dating back to May 28, and he's raised his average in that time from .248 to .284. His still not an ideal three-hole hitter, but our complaints will be muffled a bit as long as he stays hot.
David DeJesus
has also played well this month after returning from the DL in late May, and his June line of .351/.467/.541 has raised his overall numbers to .280/.372/.467, which are very solid considering his slow start.
Of course, maybe the best news of all is that
Mark Teahen
is starting to hit the ball. Since his recall on June 3, Teahen has four multi-hit games and has posted a line of .393/.433/.536 with a home run. He's pulling the ball better, and he's only struck out four times after going down on strikes 23 times in his first 23 games. His defense, however, has been somewhat lackluster, and 810 WHB today reported that the word around the clubhouse is that Teahen's right shoulder is completely shot.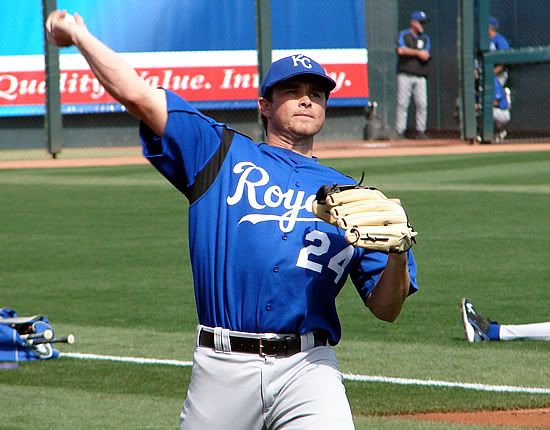 Teahen is reportedly playing through shoulder pain.
He was scheduled for an MRI when he was in Omaha, but he's apparently decided to gut it out and play through the pain. Nevertheless, it's good to see Teahen continue the blistering offensive pace he started last month in triple-A. We just hope he's not doing additional damage to his shoulder.
RC Correspondent Chris Ray today had an interesting question. It is well known that the Royals have followed the recent trend in baseball of having their top prospects skip triple-A on their way to the Majors. Across much of baseball, clubs now use their triple-A farm clubs to stockpile organizational types and aged veterans who can step into the big leagues for a short period to fill a hole if needed. Opinions on the wisdom of this change are mixed, but it's certainly the prevailing trend for an organization to house its best young prospects at double-A.

New Royals GM Dayton Moore, however, comes from the Braves organization, which is one of the few remaining organizations that does it the old fashioned way. For example, when RC went to Richmond last year, we saw a triple-A ballclub stocked with young talent, such as Andy Marte, Chuck James, Anthony Lerew, and Tony Pena, Jr.

Ray wondered if Moore, who has promised to replicate the Braves' model for scouting and player development, has a change in store for the way the Royals utilize their Omaha affiliate. We have no idea, but it was an interesting question that we hadn't yet considered. It's definitely something to watch for, and it wouldn't surprise RC one bit to see Alex Gordon and Billy Butler make stops in Omaha before graduating to KC.

Anyway, that's it for today. Stay tuned this week, as we should finally bring our promised draft analysis (barring another blogger meltdown). Up next, we plan to discuss some of the better collegiate pitchers who were drafted on Tuesday, as the Royals did a very nice job bringing in some quality arms.