RC World Exclusive!
After months of prying our sources for information,
RC
today learned from an unimpeachable informant the details of the uniform changes scheduled for 2006. We can't reveal our source, but we can now confirm (with 100 percent certainty) some of the changes that will be made.
Contrary to earlier reports, the black color scheme
will
stay. The Royals are happy with the look, but the uniform will now read "Kansas City" in script across the front, rather than "Royals." The same change will be made to the road greys.
Based upon what we know, the black jerseys may look something like this. Keep in mind that
RC
isn't terribly good with graphics, so this is pretty sloppy, but it should give you an idea of what is possible: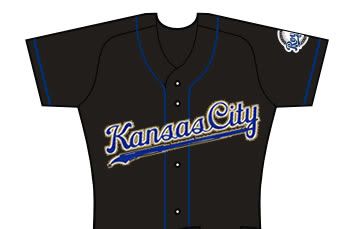 In addition, the vests are out. The Royals will return to a more traditional look, and all their uniforms will again have sleeves. There may be some more subtle changes made (such as more gold trim), but we're not sure exactly about what they will look like.
Baby blues won't happen in 2006, but they are still being considered as a road alternative for the 2007 season. However, no decision has yet been made. This isn't exactly new information, but we have now confirmed it to be true.
Another interesting thing happened today, but it doesn't seem to have received much attention. 810 WHB today reported that the Royals may announce as early as tomorrow (Friday) that they are suing Jackson County for defaulting on their lease at the Truman Sports Complex. The Royals have sat by for several years as the County has failed to live up to its obligations, and tomorrow the Royals may take the first step toward exiting the lease.

Apparently, Jackson County is expected to ask for another year to bring the complex into compliance, but Mark Gorris, the Royals' VP of business operations, said the ballclub is not willing to wait another year.

It will be interesting to see what happens. RC isn't concerned about the KC area losing the Royals, but we wouldn't be at all surprised to see this bit of hardball result in one of the following:

1) Jackson County making the improvements to Kauffman Stadium as required by the terms of the lease; or
2) A new downtown ballpark movement gaining steam; or
3) A new ballpark on the Kansas side of the state line getting serious consideration.

Any of those scenarios would be an improvement over the current situation. The Royals have been more than patient with Jackson County, and it will be nice to see some actual movement.
OK, moving beyond uniform and stadium issues, the Royals did play a game today. And they lost. Again. That makes seven in a row, as the Royals completed the worst road trip they've had since 2000. And boy, it was ugly. KC blew an early five-run lead thanks to NINE walks in the first four innings by D.J. Carrasco and Leo Nunez.

The Royals really needed a good start today, but unfortunately Carrasco was unable to deliver, lasting only 3.2 innings despite yielding only one hit. Folks, the Royals pitching right now is in a bad funk. In the last 12 games, the starters have averaged only five innings pitched while compiling a miserable 7.95 ERA. Hopefully Zack Greinke can get them back on track tomorrow vs. the American League's hottest team, the Oakland A's, but it will be a tough task.

We're not sure how the rotation will line up for the series, as Allard Baird said on television tonight that Mike Wood could rejoin the team as early as this weekend. There's still no word on Runelvys Hernandez's pending suspension, so there's no telling who he might replace.
RC, along with the rest of Royals Nation, received some terrible news yesterday about Buddy Bell's nephew. As you've probably heard by now, Lance Cpl. Timothy Michael Bell Jr., was among 14 U.S. Marines killed Wednesday in a roadside bombing in western Iraq. The 22-year-old Marine was the son of Buddy Bell's brother.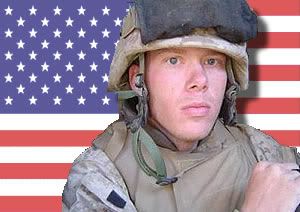 Timothy Bell: A true American hero



God Bless Timothy Bell and his family for the tremendous sacrifice they've made to our country. Indeed, God Bless all the veterans of our armed services, for it's their sacrifices which keep us free. We extend our deepest sympathies to the Bell family.