Sweeney heroic as Royals take series from champs, go for sweep tomorrow!
Wow, what a game!
RC
was on hand to witness our first Royals victory in nearly a year, and it was one of the most exciting games we've seen. We took in the contest with
RC's
own
Chris Ray
and
Kevin Agee
, who drove up from Springfield for the afternoon.
Royals starter
Denny Bautista
struggled a bit with his control, but was otherwise dominant against the powerful Chicago lineup. In six innings, Bautista surrendered only one run on one hit, while walking five and striking out five. His first two pitches of the game were clocked at 99 mph, but everything thereafter was in the mid-90s, and his breaking balls buckled several White Sox batters. All told, this was a start Bautista can build off of, and we're excited about what he has to offer this season.
Offensively, the veterans on the ballclub stole the show. Trailing by one in the sixth inning,
Reggie Sanders
stepped to the plate with two men on and drove a two-run double into the left-center gap, scoring
Mike Sweeney
and
Mark Grudzielanek
.
RC
had a feeling something big was about to happen, so we took out our official camera and snapped this shot of the big hit.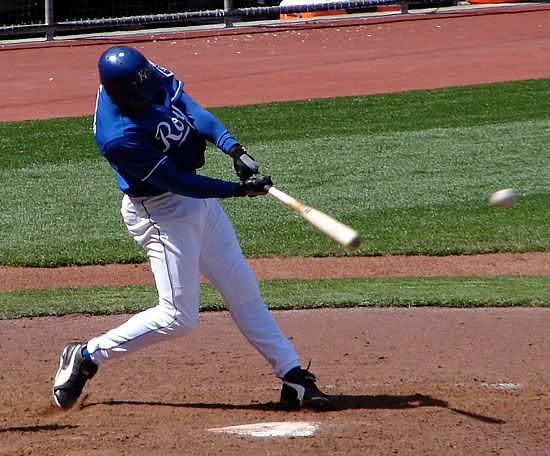 The early returns on the Reggie Sanders signing are excellent.

Sanders' clutch double set up Bautista for the win, but unfortunately the Royals lost the lead in the eighth inning when
Andrew Sisco
got knocked around for a pair of runs.
Elmer Dessens
relieved Sisco, and he successfully limited the damage by coaxing an inning-ending double play off the bat of
Joe Crede
.
Down 3-2 in the bottom of the eighth,
Mark Grudzielanek
led off with a single to center, and Sweeney, who continued to draw boos from Royals fans earlier in the game, strode to the plate. Sensing something big was about to happen again,
RC
whipped out our our trusty camera, and we were again rewarded when Sweeney deposited a 2-2 offering from
Cliff Politte
into the first row of the left field seats.
One of the uglier home run swings you'll ever see, but it counted all the same.
Ambiorix Burgos
entered the game in the top of the ninth, and he spectacularly mowed through the Sox in order, recording two strikeouts and a harmless fly ball to center. In doing so, he picked up his first save of the 2006 season, and the Royals improved their record to 2-2. These last two victories have completely erased the bad taste from the first two games of the season, and the Royals will go for the sweep tomorrow.
RC
hadn't originally planned to attend the game, but the opportunity to witness a sweep of the defending champs is too good to pass up, so we'll be there with broom in hand.
In minor league action today, the Royals affiliates were quite busy. Omaha swept a doubleheader from Nashville, and Burlington dropped both of their games to the Clinton Lumber Kings. High Desert was shut out by Inland Empire, 9-0, and Wichita dropped their third in a row to the Tulsa Drillers. The noteworthy performances are listed below.

- In what is beginning to sound like an extremely pleasant broken record, Alex Gordon went 3-for-5 with a double, which puts him at 7-for-16 through his first three professional games.

- Unfortunately, Billy Butler, Mitch Maier, and Chris Lubanski combined to go 0-for-12, and Butler struck out twice. Donnie Murphy went 1-for-5 with a grand slam in the top of the ninth inning, but it was too little too late as the Wranglers lost their game, 7-4.

- J.P. Howell turned in a stellar performance in his first start of the season for the Omaha Royals, tossing six shutout innings while striking out five and allowing only two hits and no walks. He picked up the win in the first game of Omaha's doubleheader.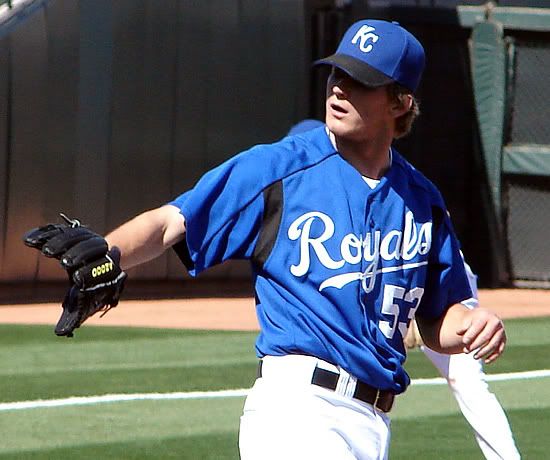 J.P. Howell had an excellent 2006 debut today.

- Luis Cota didn't fare as well in his first start for High Desert. Cota got beat around by the Inland Empire 66ers, surrendering five runs (four earned) on seven hits in just four innings pitched. He walked two and struck out one. RC Correspondent (and Mavs Broadcaster) Jon Rosen was at the game, and we'll be interested to hear from him how Cota's stuff looked.
Speaking of Jon, he sent us this report after Billy Buckner's excellent start on Thursday evening:

"[Buckner] is throwing his knucklecurve more often - last year it was pretty much a strikeout pitch that he would bury in the dirt with two strikes and try to get the batter to go fishing. From what I saw yesterday, he's throwing that pitch in all counts, and is showng a better ability to throw it for strikes. Several Inland Empire batters repeatedly stepped into the bucket and froze up when he threw that pitch.

"He was also locating his fastball well and was hitting the corners with greater frequency than last season. Nobody on the 66ers - and mind you, this was the hottest hitting team in the MWL last year - made solid contact on any Buckner offering, as they were lucky to scrape out an unearned run in the first inning courtesy of some wild throws across the infield."

Thanks again for the report, Jon, and we all look forward to your insight throughout the season, right here on Royals Corner!