MacDougal's injury, and other notes....

RC
had a busy weekend, putting over 500 miles on the odometer of
RC's
Official Jetta while traversing Virginia to see three collegiate baseball games. When we returned from today's tilt between George Mason University and UNC-Wilmington, we logged on to
KCRoyals.com
and received the terrible news that closer
Mike MacDougal
will likely miss six weeks with a "strained teres major muscle" under his right shoulder. The news put a major damper on what has otherwise been a fine weekend, complete with good offensive ouput and fine performances from
Denny Bautista
and
Andrew Sisco
en route to a four-game winning streak.
Not again!

Ambiorix Burgos
will take over closing duties in the interim, and while
RC
is convinced he's actually a better pitcher than Doogie, MacDougal's loss is a bitter pill to swallow. Every time he looks poised to become one of the AL's truly dominant relievers, something like this comes along and derails him. Hopefully MacDougal's recovery goes smoothly, and he can return to form quickly...With MacDougal's past, that may be wishful thinking. But for now, Burgos is the man, and
RC
is perfectly comfortable seeing him emerge from the bullpen with the game on the line. Who knows, maybe Burgos will do so well with this opportunity that he'll make it tough for the Royals to give MacDougal his job back when he returns. He's certainly talented enough.
Of course, this all means that the roster picture becomes even clearer, as it seems almost certain now that both
Joel Peralta
and
Jimmy Gobble
will break camp with the big club.
Buddy Bell
over the weekend guaranteed that Bautista "will be on the team," and since the Royals aren't likely to put him in the bullpen, Bell's statement is the strongest indication yet that he will occupy the fourth spot in the rotation when the Royals head to Kansas City.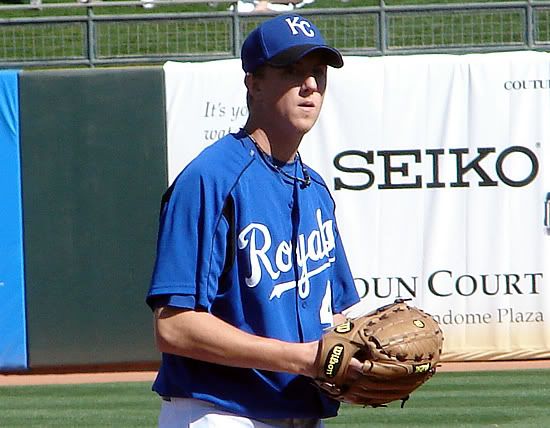 Jimmy Gobble might be the biggest beneficiary of today's MacDougal news.
The Royals have also expressed doubts about whether
Mark Redman
will be able to return to the rotation by April 14, so there could be another rotation spot open in the short term. Whoever nabs that spot will probably pitch out of the bullpen a couple times during the first two weeks of the season, before a fifth starter is needed in the rotation.
Mike Wood's
versatility lends itself well to such a role, so
RC
believes he's probably the frontrunner for the assignment if it's needed. We still think
Jeremy Affeldt
is bound for relief duty, which means the bullpen on April 2 is likely to include Burgos, Sisco, Elmer Dessens, Affeldt, Peralta, Gobble, and Wood. We'll have to wait and see how everything shakes out, but that's our best guess at the moment.
As we mentioned above, RC this weekend took in some heavy collegiate action. The weekend began with a trip to Blacksburg to see the second-ranked Florida State Seminoles take on the Virginia Tech Hokies. Mainly, we were there to see outfielder Shane Robinson and pitcher Bryan Henry, along with a few heavily touted underclassmen.

Robinson is one of the top outfielders in the 2006 draft class, but his size (a generously reported 5'-9", 165 lbs) separates him from the elite talent projected to go early in the first round. Robinson might go in the late first round, but he could potentially slide to the second, in which case the Royals may consider him. We like what we saw from him, but his size could limit his potential upside.





Either that catcher is really big, or Robinson is really small. We know the answer.



Henry hasn't gotten any love from scouts or the national baseball media, despite a perfect 6-0 record, 1.41 ERA, and very solid peripherals. He threw six shutout innings in the game we saw, allowing four hits and a walk while striking out seven Hokies. His repertoire is simple -- fastball, curveball, change -- and he doesn't seem to have any trouble locating any of them. However, it's also not hard to see why there wasn't a single scout with a radar gun in the stands on Friday. He's got a very odd overhand arm action, and it looks very unnatural and inefficient. We've got some video of his delivery, and we'll post a clip when we write up our full scouting report on him in the coming days.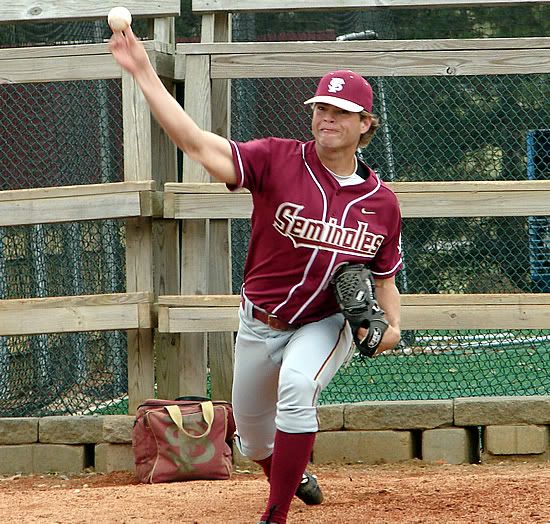 Bryan Henry is funny-looking, in several different ways. But his results are difficult to overlook.



The game itself turned into an 11-2 Florida State blowout, thanks to an eight-run seventh inning explosion. The victory was FSU's 17th in a row, a streak that was snapped on Saturday afternoon by a 9-7 comeback win for the Hokies. Of course, RC didn't see it, because we were 150 miles away watching another top ranked team get dismantled.
That team, of course, was the fifth-ranked Clemson Tigers, who were in the process of being swept by a young and tenacious Virginia Cavalier squad. Clemson boasts several highly-touted juniors, led by pitcher Jason Berken and first baseman Alex D'Alessio, while Virginia heavily counts on underclassmen (including a couple of the best freshman in the country) such as Sean Doolittle, who's easily the most impressive sophomore we've seen this year.

Berken missed the 2005 season after Tommy John surgery, but he's back this year throwing harder than ever. He was throwing his fastball in the low 90s on Saturday, mixing in his changeup, curveball, and slider with varying degress of success on a chilly afternoon. He left the game in the sixth inning with the bases loaded and two outs, trailing 1-0. Nine runs and two pitchers later, the sixth inning ended, and the Cavs had a commanding 10-0 lead en route to a 10-2 final score. In his 5.2 innings pitched, Berken surrendered eight hits and three walks while striking out three and hitting a batter. His mechanics looked pretty clean, but we'll have more to say about him when we write up our player reports.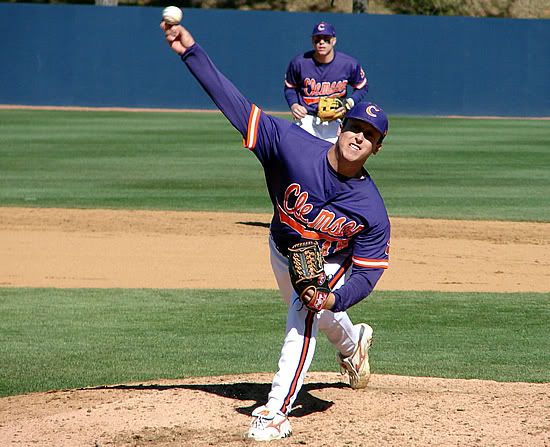 It's hard to get good photos at Virginia's Davenport Field, but RC is pretty pleased with this one.



Doolittle can't be drafted this season, but RC is certain he's a player to keep close watch on next season. While RC was in Blacksburg on Friday, Doolittle was busy carving up Clemson Tigers, hurling eight innings of four-hit baseball. But pitching isn't his only talent. Doolittle is a two-way player, possessing a great bat and slick fielding skills at first base when he's not on the mound. He was a second-team preseason All-American this year, one of only two sophomores on the first two teams.



Doolittle impressed the hell out of RC on Saturday.

RC's favorite non-Royal minor leaguer is the Orioles' Nick Markakis, and the similarities between him and Doolittle are astounding. Markakis was also a great two-way player in college, and scouts were divided about where he should play as a pro. Doolittle will likely inspire similar debates, but the similarities don't end there. His size, batting stance, swing, high socks, eye black, and even number are all EXACTLY the same as Markakis. It's actually sort of creepy: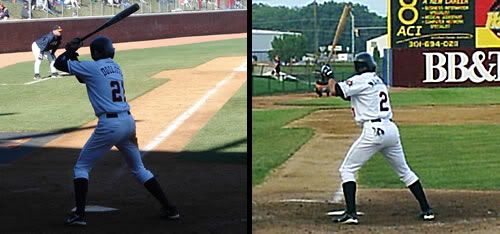 OK, maybe Doolittle's hands are a little higher, but still...



Anyway, that's it for today. Stay tuned this week, as we plan to publish our latest draft prospect update on Monday evening, along with a few other surprises we have up our sleeves. We'll work on our scouting reports from this weekend's games, and we'll let you know when they've been posted to our dedicated page.