A rare but significant complaint...
Tonight marked the fourth time in the last five games that
Matt Stairs
got the start at first base over
Justin Huber
. This makes no sense whatsoever, and it's causing
RC
to rethink our support of Stairs being re-signed. Not because we don't like Stairs, or because we don't think he has anything to offer...we do, and he does. But we are now starting to worry that this will continue next season as well.
Look, the plan may very well be to send Huber to Omaha for a couple months at the beginning of next season. While we'd prefer to see him start in KC, having Huber get a little more time in the minors wouldn't hurt anything, and Stairs is more than capable of filling in until the Royals deem Huber to be ready. If that's the case, then playing Huber sparingly now makes a little more sense.
But if the Royals are planning to have Huber start 2006 in KC -- as we have been led to believe -- then playing Stairs four out of every five games right now is simply insane. Every at bat Stairs takes only lengthens the Major League learning curve for Huber, and it seems to be entirely counterproductive to what the Royals hope to accomplish. And our true worry is that the worst case scenario imaginable -- that Huber will be relegated to platoon duty with Stairs in 2006 -- now appears to be closer to reality.
We don't expect to find much disagreement with our readers on this point, but we felt we had to express this frustration. We still don't mind
Chip Ambres
not playing (because
RC
has also concluded that Ambres isn't very good), but seeing Huber on the bench night after night is really wearing thin on our patience. Moving on to better things...
Mark Teahen smacked a legitimate home run tonight to right center field. He jumped all over a Scott Elarton fastball and deposited it a few feet over the wall for his fourth homer of the season. Teahen is really swinging well right now, and after going 1-for-3 tonight, he's sporting a very nice September line of .311/.396/.489 in 45 at bats. It looks like Teahen's starting to figure some things out, and it would be excellent if he can continue this pace through the end of the season.
As you know, the Royals lost the game, 3-1, but RC must say that if there's any team we'd have to pick to lose to right now, it would be the Cleveland Indians. Doing so screws up the postseason plans of two of RC's least favorite teams, the Chicago White Sox and the New York Yankees. Would there be anything better than seeing the Indians chase down the White Sox while seeing the $220 million Yankees sit at home for the postseason? We can think of only one thing better, and it last happened in 1985.

And in that spirit, RC came across a cool graphic today while perusing the blogosphere: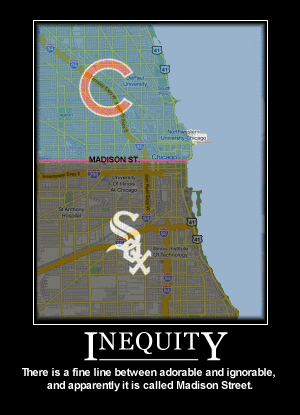 If you're in the mood to see posters for other teams, check out the site we found it at, which can be accessed by clicking here.