Greinke back to form as Royals roll over Tigers...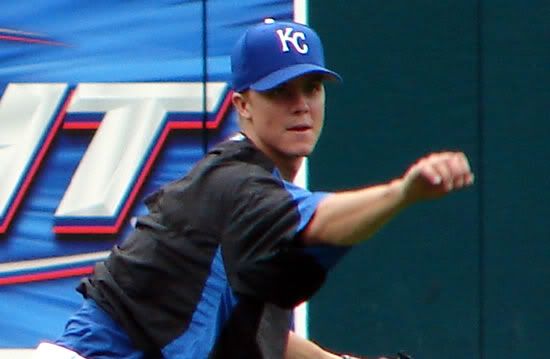 "I tried to throw the ball like MacDougal — as hard as I could with my head down and eyes closed."

With
Mike Sweeney
and
David DeJesus
out of the lineup, the Royals played what just might have been their finest game of the season last night, beating the Tigers 12-2. The offense feasted on Detroit's poor pitching, as every starter in the lineup collected a hit.
Aaron Guiel
(who no longer must live in RC shame with the AAA in front of his name) paced the way with three hits, including a big two-run homer in the second inning, and
Justin Huber
collected the first three-hit game of his career.
Emil Brown
knocked in three runs with his 30th double of the season, and big
John Buck
hit a monster home run (estimated 428 ft.) to left for his 10th dinger of the season.
Angel Berroa
even managed to have another good game, going 2-for-4, but even more significant, he drew his first unintentional walk since JULY 20, a ridiculous span of 173 at bats.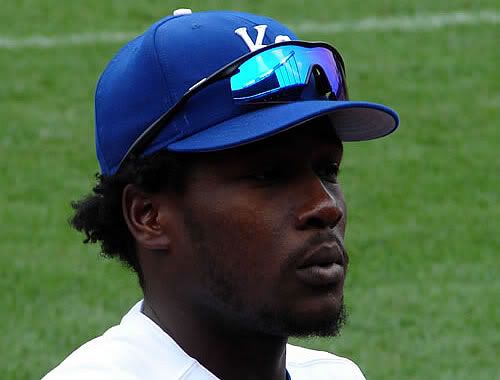 Congratulations, Angel, on your wonderful plate discipline.
In the field, the Royals were similarly good on defense. Guiel made a number of nice plays, including a sliding catch, and the double play combination of Berroa and
Andres Blanco
turned in a pair of highlight reel double plays. The first has to be a candidate for double play of the year, as Berroa dove to his right to snag an
Ivan Rodriguez
grounder headed for the hole, popped up to a knee, spun, and threw a strike to Blanco, whose pivot and throw to first made it look like he's been playing second base his entire life.
The other double play began when Blanco flagged down another outfield-bound bouncer to his left, spun and threw off balance to Berroa, who quickly completed the double play with a perfect throw to first. On both plays, Blanco displayed an athleticism at second base that neither
Donnie Murphy
or
Ruben Gotay
possess. Gotay wouldn't have gotten within five feet of the second double play grounder, and Murphy, as good as he is, would have never gotten enough on the throw to nail Pudge on the first double play.
RC
isn't advocating a switch at second -- we still prefer Murphy -- but Blanco clearly offers things that neither Murphy or Gotay can on defense.
The story of the night, however, was
Zack Greinke
. This was easily the best performance by Greinke since early in the season, and it represented a return to his old form. Instead of trying to overpower everyone with a barrage of 94 mph fastballs, Greinke started changing speeds again. His fastball was sitting in the 86-89 mph range for most of the night, but we did see him dial it up on occasion. His control was pinpoint, and his breaking ball was slow and sharp. One at bat in particular showed us exactly what we've been wanting to see. It was a four-pitch strikeout of
Craig Monroe
in the fifth inning:
Pitch 1) 72 mph curveball inside for called strike
Pitch 2) 93 mph fastball low and inside -- fouled off by Monroe
Pitch 3) 83 mph fastball/change-up (could have been either) high and outside for a ball
Pitch 4) 77 mph curveball just above dirt, swung on and missed for strikeout
This is the Greinke that
RC
grew to love. Our only concern is that Buck's pitch-calling became very predictable, and Greinke seemed to be starting everyone off with the slow curveball. He won't get away with that for long.
Of course, Greinke's night ended prematurely when he threw a retaliatory pitch behind Rodriguez's back with two outs in the sixth inning. It was pretty clearly intentional, although Greinke brushed aside such suggestions after the game with what just might be the quote of the year: "I tried to throw the ball like MacDougal — as hard as I could with my head down and eyes closed."
Classic. Before his exit, Greinke threw 51 of 68 pitches for strikes, which, again, is the Greinke we remember.
High Desert didn't fare nearly as well as the Royals in their playoff game last night. Taking an 8-4 lead into the top of the ninth inning, the Mavs' bullpen (led by Chad Blackwell) imploded, surrendering four runs to send the game into extra innings. The Lancaster JetHawks came up with the game-winning run in the 11th inning, and the Mavericks' season is over.

Of course, we'd be more upset if it weren't for Chris Lubanski, who hit for the cycle in the game, and finished the playoffs with an .867 batting average. Lubes went 13-for-15 in the three games with three home runs, a double, and a triple. That's quite a way to end the season.

Also, RC friend Jonathan Mayo yesterday afternoon interviewed Lubanski on MLB Radio. It was a fine interview, and you can listen to the archive here (the interview begins at the 12:25 mark). Lubanski is planning to return home to Pennsylvania for a while after the season, and he plans to work out in both Florida and Arizona during the offseason. He'll most likely begin next season in Wichita.