Yuck! Royals drop another to Yanks, look to salvage finale vs. Big Unit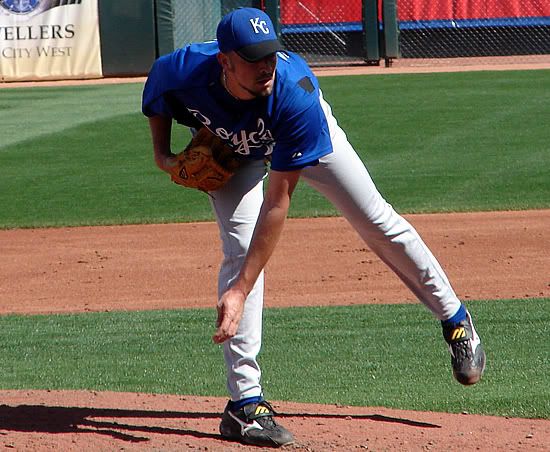 Jeremy Affeldt stunk again on Wednesday.
At least the new uniforms looked sharp on Wednesday. So did the offense in the early going, as the Royals jumped out to a 3-0 lead in the first inning, courtesy of
Reggie Sanders'
third home run of the season and an RBI double off the center field wall by
Emil Brown
. Unfortunately, the Yankees answered immediately, as
Jeremy Affeldt
walked the first two batters and surrendered a three-run homer to
Gary Sheffield
before he even recorded an out. The Royals' first early lead of the season was gone in an instant, and Affeldt stunk his way through 3.1 innings while staking the Yanks to three more runs.
RC
just doesn't see anything out of Affeldt, and we haven't for a couple years now. He no longer throws mid-90s heat, his curveball is only a fraction of what it once was, and his control deteriorates further every time he takes the mound. For most of his outing, he seemed content throwing nothing but straight fastballs, and he couldn't even locate those. We saw a total of four curveballs, and only one or two of those were even quality pitches. Needless to say, we have no optimism whatsoever that Affeldt will ever regain the form that caught the attention of the league when he emerged from obscurity several years ago, and we hope the Affeldt-as-a-starter experiment will end sooner rather than later. As a matter of fact, we wouldn't mind seeing the Affeldt-as-a-Royal experiment end shortly thereafter.
Mark Redman
is scheduled to make another rehab start for Omaha on Sunday, and if all goes well, he should be ready to go on April 21. Affeldt and
Joe Mays
are the leading candidates to be replaced in the rotation upon his return, and if we had our druthers, it would be the former.
The Royals try again today, sending
Denny Bautista
to the hill to face
Randy Johnson
. On paper this looks like a mismatch, but if Bautista can duplcate his performance last Saturday, the Royals just might be able to escape the Bronx with a victory and a 3-5 record. The task is a difficult one, particularly since neither
Mike Sweeney
or
David DeJesus
will play, but if they happen to catch Johnson on the right day, anything could happen.
Esteban German
will make his first start of the season in place of
Mark Teahen
, and DeJesus is expected back this weekend in Tampa after participating in pre-game drills this week.
High Desert Mavericks announcer Jon Rosen is back with an exclusive RC report on pitching prospects Luis Cota and Billy Buckner. Cota was roughed up in his first California League start on Saturday, and Buckner on Tuesday turned in his second stellar outing of the spring. Rosen reports:

"There's not much to write about Luis Cota - he just didn't throw strikes Saturday night. It's tough to pitch at any stadium when you start out every batter 2-0. At Mavericks Stadium, it's suicidal. He's a professional, though, and what I've seen of him so far is that he's very level - no highs or lows. He should be ready to put up a good line [Thursday] night against a weaker Rancho Cucamonga lineup.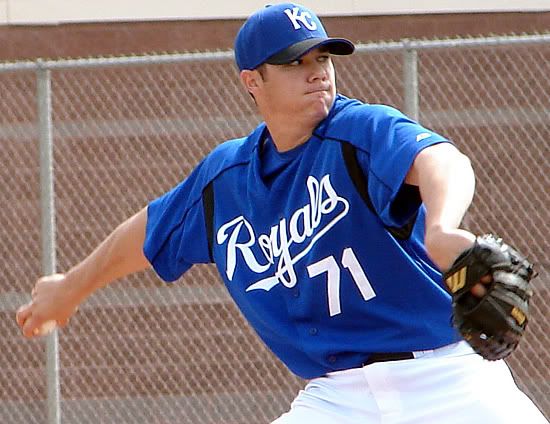 Luis Cota struggled in his first start of the season.



"Billy Buckner was stellar against Rancho last night, even more so than in the opener. His only blemish was his lone walk of the night - it led off the fifth inning against Matt Pali, who is in his second year in the Cal League and came around to score on a one-out single. He struck out eight, including the last batter in the third and all three guys in the fourth while relying heavily on his curve, especially in the later innings. Rancho's leadoff batter (who was 2-4 with two doubles and three runs scored the previous night) just froze up against all of Buck's nasty breaking stuff, striking out three times, twice looking at nasty benders. The over/under for starts Buckner makes in the Cal League is officially set at six."

Thanks for the report, Jon, and we continue to look forward to your updates throughout the season.