RC opens up the mailbag...
Before diving in to today's mailbag feature,
RC
wants to point out two excellent pieces in today's
KC Star
. The first is a
great article
about
Alex Gordon
by
Bob Dutton
, which is bound to get anyone who reads it more excited than ever about the Royals' top prospect. The other is a
wonderful column
by
Joe Posnanski
, who has finally arrived in Surprise after a few weeks of covering something that was going on in Italy. Poz's column was written as a response to a letter from an optimistic young Royals fan, a fourth grader who most certainly figures to become a devoted
RC
reader as soon as he discovers us.
With that out of the way,
RC
is ready to tackle some questions.
Q
:
Bill from Olathe, KS, asks:
Hey RC, love the site. While you were in Arizona, did you come away with any opinions of players who you expect to have better or worse than expected seasons?
A
:
RC
: Ravings about
Shane Costa
and
Mitch Maier
aside, we didn't really see anything that hinted to us whether or not a player is destined for a surprising season. But we'll give it a shot.
Mark Teahen
looked awfully good in batting practice and the games, so
RC
wouldn't be shocked to see a very nice improvement from him this season. We're not expecting him to set the world on fire this year, but we do think he could move pretty close to league average third base production in his second full season.
We've noticed that a lot of "experts" are calling
Emil Brown's
2005 season a fluke while predicting regression, but
RC
actually expects Brown to put up even better numbers this year with a full Major League season under his belt. Brown looks like a very competent big league hitter, and he presents very few weaknesses offensively. His swing is short and well-balanced, and he has good power to all fields.
RC still loves Brown's swing.

Andrew Sisco
is one player we wouldn't be shocked to see some regression out of this season. It doesn't have anything to do with anything we saw from him in Arizona, but he still struggles with his control, and he still allows too many baserunners to expect a repeat of his 2005 ERA (3.11). We hope we're wrong, but even if we're not, it's important to remember that Sisco is only 23-years old and still has that great fastball and slider. Even if 2006 is a disappointing year for him, his future remains awfully bright.
Q
:
Jason from Kansas City, MO, asks:
If you had to guess, what do you think the 25-man roster will look like when the Royals break camp?
A
:
RC
: It's really not that difficult to guess, as all but about two or three spots are already decided. This is our best guess at this point:
C: Buck, Bako
1B: Mientkiewicz, Sweeney, Stairs
2B: Grudzielanek
3B: Teahen
SS: Berroa
UT: German
OF: DeJesus, Brown, Sanders, Guiel, Ambres
SP: Elarton, Hernandez, Mays, Bautista
RP: MacDougal, Burgos, Sisco, Wood, Affeldt, Dessens, Peralta
When Redman returns to the rotation in mid-April, Guiel or Ambres will be sent away. Of course, there are a couple of other possibilities. First, the Royals may make their fourth outfielder decision in Surprise, in which case you'd likely see another utility infielder like
Joe McEwing
added to the roster on a short-term basis. Of course, in order to do so, the Royals would have to add him to the 40-man roster, but that wouldn't be a problem in our scenario, since
Jimmy Gobble's
departure will have cleared a spot. In addition, there remains the possibility that
Zack Greinke
could be added to the 60-day DL (we sure hope not!), which would open up another spot on the 40-man roster. Also, we're not sure whether or not
Bobby Madritsch
can or will be placed on the 60-day DL once the season is underway, but that would open up yet another spot on the 40-man roster.
RC believes Guiel has a strong chance to break camp with the Royals.
Of course, if Affeldt or Wood wins the fourth spot in the rotation, then Bautista goes to Omaha, Gobble makes the team, and you could see an infielder already on the 40-man roster – such as
Ruben Gotay
or
Andres Blanco
– break camp with the club on a short-term basis.
Still, the whole point of carrying 14 position players through the first two weeks of the season is to maximize the manager's in-game flexibility, and since both Ambres and Guiel are more advanced offensive players than McEwing, Gotay, and Blanco, it makes the most sense to us that the Royals start the season with five outfielders. Of course, flexibility lends itself to both offense and defense, so maybe the Royals decide it would be best to carry an additional infielder.
Q
:
Tom from Kearney, NE, asks:
RC, I see that you got a look at Jeff Bianchi while you were in Arizona. Did it look like there were any lingering effects of his back injury last season? Where do you think he'll play this year?
A
:
RC
:None at all. We saw Bianchi take ground balls and participate in fielding drills for hours on end with a couple of other Royals minor leaguers (
Shawn Hayes
and
Darren Fenster
) who also missed significant time last season to injury, and he didn't look any worse for the wear. Of course,
RC
didn't have access to the training room, but Bianchi on the field didn't appear to have any physical limitations.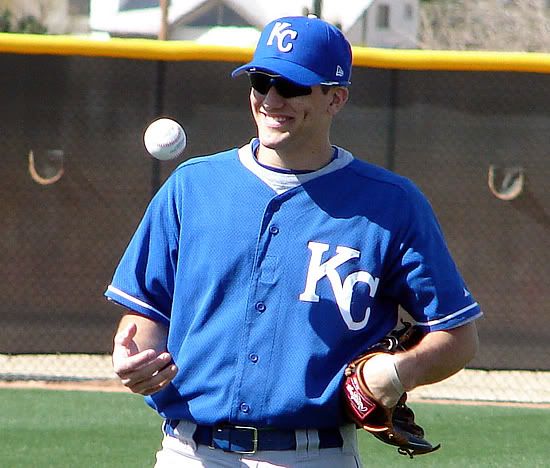 Jeff Bianchi looked healthy when we saw him.

The Royals are reportedly going to take it slow with him, so he's expected to remain behind at camp until they're certain he's ready to return to game action. Translation:
RC
expects Bianchi to stay behind for extended spring training and report to Idaho Falls this summer.
Q
:
Chuck from Gladstone, MO, asks:
I get worried every time I look at a spring training box score and see that Kerry Robinson or Joe McEwing had a couple hits. Is there any chance that a good spring showing from either will result in them making the team? I just can't put up with another season of seeing Joe McEwing in the lineup.
A
:
RC
: Well, we already discussed McEwing's possible inclusion on the 25-man roster when the Royals break camp, but even if that happens, he's not likely to be around once Redman returns to the rotation. In fact, if McEwing doesn't break camp with the team, it's hard to imagine him accepting a minor league assignment with Blanco, Gotay,
Mike Aviles
,
Mike Coolbaugh
(when his broken forearm heals), and possibly
Chris Clapinski
all slated to head to Omaha.
The playing time for Super Joe doesn't figure to be there, so he may head elsewhere, or even retire. While it makes our stomachs churn to see him in the lineup, McEwing is a leader on and off the field, and we'd love to see him become a coach someday. We don't know if that's in his or the organization's plans, but the Royals could do worse.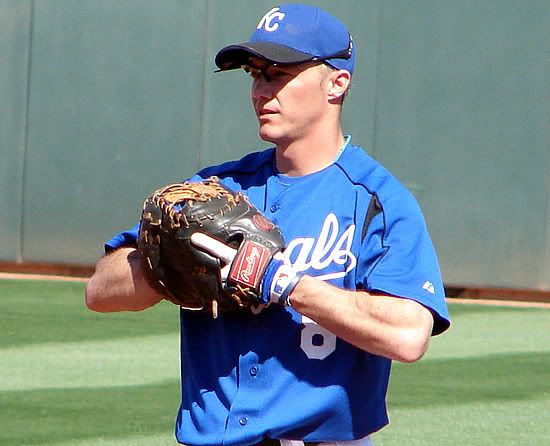 Regardless of what happens, RC wants McEwing to mothball that first baseman's mitt.

As for
Kerry Robinson
,
RC
is quite certain that you have nothing to worry about. It would take a few injuries to land him a spot on the big league club, and even then he'd be a player the Royals would frantically look to replace. If you've never seen Robinson hit, the best way to describe him is that he's somewhat similar to
Tom Goodwin
, only with less movement in the box, less speed, less on-base ability, and (gulp) less power. His spring training stats may look gaudy, but they've been put together with a hodgepodge of Texas Leaguers. No chance he makes the club in front of Guiel and Ambres.
That's it for today. If you have any burning questions for a future mailbag segment, be sure to send us an
e-mail
.