RC reports on Daniel Bard...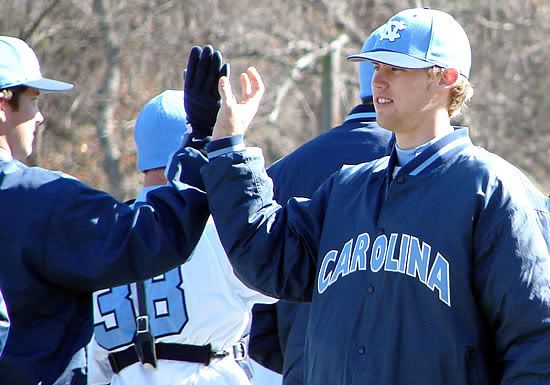 Daniel Bard is congratulated by teammates after his first victory of the 2006 season.
Daniel Bard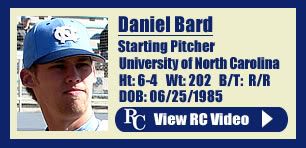 On Sunday afternoon, Daniel Bard took the first step toward putting his lackluster 2005 effort behind him, picking up a victory against Seton Hall. Bard opened the season by going seven strong innings, allowing three earned runs on five hits while striking out five and walking none. RC kept a pitch count for Bard's performance, and 60 of the 81 pitches he threw on the afternoon went for strikes. In fact, Bard went to a three-ball count only once, before retiring the batter on a soft liner to the first baseman.

For the most part, Bard kept the ball down while working to both sides of the plate, retiring more than twice as many batters on ground balls than fly balls. His mechanics looked pretty flawless, as his delivery is smooth and efficient. He's got a high (but not obnoxious) leg kick, and he gets good drive toward the plate with his legs.

His primary breaking ball is a hard slurve which he throws from the same arm slot as his fastball (The velocity and delivery is indicative of a slider, but the break is similar to a curve, and RC just isn't certain what he calls it. Actually, he could have been throwing both a curve and a slider, but we didn't note any real variation in velocity. After reviewing our video again, it looks as though he may have mixed in a slower curveball that we missed during the game. In fact, we think the third pitch in the video we've provided may have been such a curve.). It has a late sharp break, and he was throwing it at 81-82 mph. We saw him use it on both sides of the plate, back-dooring lefties and moving it in and out on righties. It's definitely a plus pitch, but like Andrew Miller's slider, we're curious how much effect the raised seams on the ACC balls have on his breaking ball(s).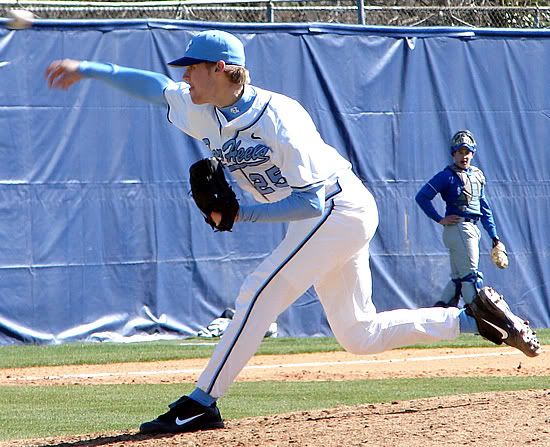 Bard's fastball is a very good pitch as well. We saw several with nice tailing action, and he was throwing 92-93 mph all afternoon. In the sixth inning, we saw him hit 94 a couple times, which was the fastest we saw from him, although we didn't have access to a radar gun for his entire outing.

Bard's other pitch is his changeup, which he didn't seem to use much in the game. It has the tailing movement of a circle change, and we saw him leave it up a few times, once for an RBI triple (394 ft. shot to dead center) off the bat of Seton Hall's best player, Dan McDonald. In fact, McDonald had Bard's number all afternoon, lacing a double to left center in addition to the triple, and scoring two of the three runs against Bard while knocking in the other. Other than McDonald, Bard had a very easy time with the weak Seton Hall lineup.

RC really likes Bard -- he showed us easy velocity on his fastball in combination with a very nice breaking ball. He's got a good pitcher's build, and he's very athletic. He'll need to add another quality pitch to become a frontline starter, but if he makes some strides with his changeup, he should have everything he needs to do very well as a professional pitcher.

For more photos of Bard, click here, here, here, and here.
We are also pleased to announce that we're ready to unveil our newest feature: RC's Top 10 College Prospect Tracker. Click on the hyperlink or the box on our sidebar to view the page. RC Correspondent Chris Ray has promised to update the stats frequently, so you'll be able to view the progress of the nation's best collegiate talent right here on RC throughout the season.

Our Top 10 list is below. RC has ranked these players as being the most likely to draw serious attention from the Royals for the first overall selection in the June draft. We believe the Royals will most likely select a pitcher or outfielder, but players like Matt LaPorta, Evan Longoria, and Wes Hodges may prove, with great seasons, to be too good to pass up. There are a few high school players who are likely to draw attention as well, but access to their stats is very limited, so we've decided to focus solely on college players.

1) Andrew Miller - LHP - University of North Carolina
2) Max Scherzer - RHP - University of Missouri
3) Ian Kennedy - RHP - University of Southern California
4) Drew Stubbs - OF - University of Texas
5) Evan Longoria - 3B/SS - Long Beach State University
6) Daniel Bard - RHP - University of North Carolina
7) Matt LaPorta - 1B - University of Florida
8) Wes Hodges - 3B - Georgia Tech
9) Dallas Buck - RHP - Oregon State University
10) Joba Chamberlain - RHP - University of Nebraska

Be sure to check out our College Prospect Tracker page frequently for statistics and updates.